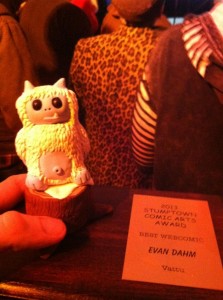 You can tell how well a particular comics awards program meets the standard of "credibility" or "legitimacy" by how closely it matches my ballot. Okay, kidding, but face it — that's how we all think; if we agree with the winners then it's good and if we disagree then we can't believe what idiots the jury/voters/whoever are. By this (admittedly solipsistic) standard, the 2013 Stumptown Comic Arts Awards were pretty damn good. Let's take a rundown, shall we?
Of the eleven categories, it appears that eight come from the webcomicky world; granted, one of those is for Best Webcomic, which is pretty much guaranteed to represent our weird little community, so maybe it's really closer to seven out of ten. A'course, Best Webcomic went to Evan Dahm for Vattu which was my choice, so yay.
The big winner of the night was undoubtedly Spike, taking Best Anthology for Smut Peddler (with a few dozen fellow contributors) and Best Small Press for Poorcraft (with Diana Nock). Carla Speed McNeil has been running Finder as a webcomic for a while now, and the reissue of Talisman saw her recognized as Best Cartoonist and Best Leterer.
Kory Bing's Skin Deep (specifically the chapter entitled Exchanges¹) led to gongs for Best Colorist and Best New Talent². The Reader's Choice Award went to EK Weaver for The Less Than Epic Adventures of TJ and Amal.
If all that weren't cool enough, the design of the awards themselves is pretty neat: a plaque with a little big-eyed monster-critter, as seen in photos shared by Ms Bing, Mr Dahm, and Ms Spike. It's a fun touch³, one that says You don't need to take this too seriously, let's all just have fun now, which is exactly how we should approach comics.
Fleen congratulates all the winners, and all the voters for having such good taste (defined, of course, as liking the same things that we at Fleen like). Now if only somebody could talk to the [insert name of your least favorite award for anything here] voters, then we'd be set.
_______________
¹ On the web, Exchanges dates from 2009, but it's recently made it to print.
² In another case of laboring long before finally breaking out as a "new" talent, Bing's Skin Deep has been updating since late 2006.
³ Possibly not as fun as the brick that forms the Ignatz Award, but with less chance of being seized by security prior to your flight home.