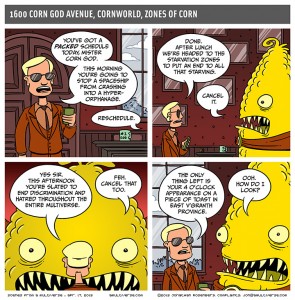 Warning: we're starting today with a link to 2000-odd words that you should read in its entirety, so make sure you set a little time aside. To help make up for it, I'll try to be brief.
Shaenon Garrity, Funk and Tiki Queen of All She Surveys, looks back a dozen years to the early days of Colonel Joey's involvement in webcomics, marking the recent passing-on of the Modern Tales family. It's really nice remembrance from one who was there¹, and startling in the realization how many of the people that Manley gathered around himself a dozen years ago have gone on to be influential and successful. Give it a read and maybe nod in the general direction of Kentucky, as we may never know how much that nudge given by Manley contributed to those creators staying in the game.
It's been going on three years since Brad Guigar³ ran a workshop on webcomickin' at New York Comic Con 2010 (partnered up with the redoubtable Scott Kurtz), to overwhelmingly positive reviews. I'd been wondering why Guigar hadn't offered such a bootcamp (as he termed it, and can I say that the mental image of Guigar in a Smokey The Bear hat screaming at rookie webcomickers to drop and give him a punchline is awesome) again, when lo and behold he announced another one, coinciding with the first full day of Philadelphia Comic Con:


Brad will present a lecture on the art and commerce of webcomics and then take their class through a collegiate-level critique of their work.

Cost of attendance is $29.99 for Webcomics.com members who would like their work critiqued.(Members of Webcomics.com are eligible for a special discount.)

Be prepared to take and offer frank, constructive criticism. Each participant will receive a printed packet with tips, advice and comments directed specifically on how they can improve their work. Everyone is welcomed to attend the panel and join the discussion, but only Bootcamp participants will have their work discussed specifically.

Philadelphia Comic Con (formerly known as Megan Fox Tits Wolverine World Philly) will take place Thursday 30 May – Sunday 2 June at the Convention Center in Philadelphia, PA; the Webcomics Bootcamp will take place from 5:00-6:30pm on Friday, 31 May, room TBA.

Next weekend is going to be a busy one for [web]comickers, at least for those between the 45° and 59° northerly latitudes. From the southwest to the northeast, there will be events going down in Portland, Calgary, and Stockholm, any one of which may fill you with delight and wonder at the comics arts, but only one of which will feature Rene Engström, who tweets:


I'll be speaking at a panel on webcomics at Stockholm's International Comic Festival on Saturday the 27th of April between 4 and 5 pm at Bibliotek Plattan!

The Bibliotek Plattan, or Plattan Library, is part of the Kulturhuset complex at the Sergels Torg, which is the most central public square in the city. Judging from the site plan [PDF], you'll want to head to the basement once you get there. Tell Rene I said hi, and see if you can get her to show you a sneak peek of The Venerable Leaf.
________________
¹ I've long since grown accustomed to consuming Garrity's writing in four-panel chunks, and it always surprises me how wonderfully she writes when she's not constrained by the limit of a few dozen words. It shouldn't not with all the forgotten manga she's so lovingly described², or her contribution to the Machine of Death [MP3] anthology.
² She is entirely responsible for me devouring (ha, ha) the 26-volume run of Yakitate!! Japan, the insane fight manga to end all insane fight manga, where by "fight" one should read "competitive bread baking".
³ He's dreamy.