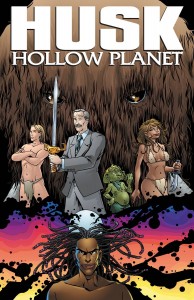 We at Fleen have long been impressed by the Doug Wright Awards for excellence in English-language Canadian cartooning — the list of categories is mercifully short¹, the nominees are traditionally very strong, and the ceremony is held in conjunction with one of the best shows of the year, TCAF.
To that list, one may now add the fact that this year's awards program will be hosted by Scott Thompson, best known from roles such as Best Friend of the Time Gate Operator, Tomin the drunk alien ambassador, Pleakley's Mother, Dusty Gozongas, and various roles on some obscure sketch comedy show in the '80s.
Thompson actually does have a comics connection, having co-written a graphic novel relating the alternate-world-barbarian-fantasy adventures of the most staid businessman in history, Danny Husk. I foresee an amusing evening full of uplifting frolic and cavortment.
Sticking with Canada in general, and Toronto in particular, word dropped from Ryan North yesterday that the webcomics domination of Cartoon Network-related programming continues apace:
Breehn is doing a Bravest Warriors AMA! He lets drop that @achewood and I are each writing an episode :o
The "Breehn" referenced would be Breehn Burns, the writer/director to whom Bravest Warriors (and Adventure Time) creator Pen Ward entrusted the adventures of the emotion-laden space teens. The remainder of North's tweet referenced a question posed to Burns if he needed help on writing duties, prompting the reply:
This year we've brought several writers to the show, so I'm writing about half the scripts with my co-writer Jason Johnson, and for the rest I'm supervising new writers. Among them are Ryan North who does the [Adventure Time] comics, and Chris Onstad who writes the best web comic in existence, Achewood.
So far as I know, animated shorts is a new area of creative endeavour for both North and Onstad². North, naturally, has a feel for Wardian absurdism, what with the Adventure Time comics being one of the breakout successes of the past year, and he and Onstad have deep reserves of skill in making language dance in their comics³. Usually this is the sort of thing that I would view with cautious optimism, but screw that — this is gonna be great.
_______________
¹ To be precise: three. Namely, Best Book, Best Emerging Talent, and the Pigskin Peters Award (for experimental or transgressive work).
² Although the proposed Achewood cartoon show has certainly given Onstad experience in adapting to animation, not to mention voice acting.
³ As well as the fact that Ryan North used to live with Joey Comeau, who writes the Bravest Warriors comics! Oh man, how deep does this rabbit hole go?