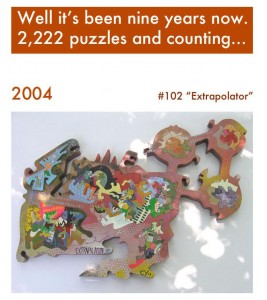 Nine years is a long time in webcomics, and it would not be a slight accomplishment to turn out more than 400 (sometimes huge) photocomics with extensive costuming and props. But to turn out more than 400 (sometimes huge) photocomics with extensive costuming and props and 2222 wooden jigsaw puzzles? That's the work of a creative madman, possibly with a frantic body posture and overly-excited facial expression.
So happy Baffler!versary to Chris Yates, Assistant Dragon Emily, Previous Assistant Dan, Captain Felix, Mensa the Menacer, Box-Head, the POOP sign, and all the other denizens of the Greater Boulder Puzzle Metropolis, and may your sanding fingers never shrivel up and fall off. PS: special 30% off Baffler! sale this week in celebration
Apparently, MoCCA Fest 2013 isn't over until the Society of Illustrators says it's over, and sister, they ain't said so yet. How else to explain the fact that talks and events associated with this year's MoCCA are still going on? Case in point: 25 April (that would be ten days from now) at 6:30pm, Boulet (Fr ici, Eng here, and I don't know how to say "here" in Korean) will teaming up with Gabrielle Bell to talk with the comics-loving public for a few hours, thanks in part to a cultural program organized by the French Embassy.

An Evening with Bell and Boulet will be held at the Society of Illustrators, on the Upper East Side of Manhattan, and will run you between US$7 and US$15 depending on whether or not you're a student, a member of the SoI, or a non-member; tickets and more information here.

Science cartooning, heck yeah! Rosemary Mosco is one of those people that I can talk to forever about pterosaurs (and oh my goodness, it appears that Witton has a book coming in June, hooray) and bunches of other things as well, but man do I love talkin' pterosaurs with her. She's one of them actual scientist-type scientists (such as make we poor engineers look like unrigorous experimentalists), and as part of the Cambridge Science Festival in Cambridge, MA, she'll be talking on the topic of science cartooning along with Jay Hosler and EJ Barnes.

Science & Comics will take place at Cambridge's Main library, from 2:00pm – 4:00pm on Saturday, 20 April, in the lecture hall. Like the vast majority of the CSF events (going on now until Sunday), it's totally free.

Two of my favorite creators have been stepped back for a while (and will be for the forseeable future) from their main creator-owned project due to external commitments. One of those (a graphic novel from Oni) has been running in place of their main work and the other was revealed late last week: the reason that I'm not seeing ">Yuko Ota and Ananth Panagariya's twice-weekly autobio adventures is, in part, due to them producing an Adventure Time miniseries about PepBut and Cinnamon Bun as noir detectives. Let's see, midsummer last year was when Meredith Gran's Marceline and the Scream Queens mini launched to great acclaim, so I have high hopes for this year's midsummer launch of Adventure Time Candy Capers. Mostly because PepBut rules.
_______________
No footnotes? I … I can't explain this.