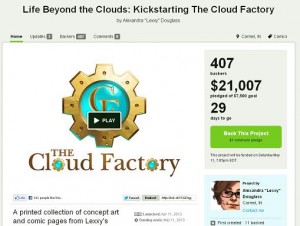 I've been wondering when the first really big Strip Search-related splash would be made and last night Lexxy Douglas launched a Kickstarter to get her webcomic started. In the order that they occur to me:
Less than 90 minutes after launch (and about an hour after the first public tweet), Douglas had cleared her US$7500 goal.
Reading the campaign pitch the money raised is to let Douglas turn down otherwise-paying work so she has the time to launch the comic; this stands in contrast to most [web]comics-related Kickstarters that are going to succeed, in that a request to make something that nobody's seen yet generally doesn't do as well as a request to merchandise something that already has an audience.
Douglas, of course, has an audience (via social media) and is well integrated with webcomics creators, not to mention the fans she's garnered in her time on Strip Search. Last night I thought she'd timed the launch of this KS campaign well, given that she was still seeing an uptick in attention from people that felt her elimination from the show was a travesty. #TeamLexxy will be all over this.
This morning, I think that her timing is absolute fucking genius [A/V mixed with a liberal dose of holy crap!]; seriously Lexxy, that is some Khoo-level strategy you pulled right there. Bravo.
As of this writing, Ms Douglas is on the cusp of just north of US$21,000 and the Gary's First Law of Kicktraq Projections has her finishing in the US$50K – 100K range.
Stretch goals are presently defined up to 50K; better think up a couple more and ones that don't require physical production/shipping, on account of you've already got a couple hundred packages to mail.
It appears that George helped Of course he did.
Speaking of Kickstarts, what may be the most logistically-challenging [web]comics Kickstart in history¹ is making progress, and dropped some references to a pledge-management system² called BackerKit, which you may as well get used to seeing, as I suspect it will be a standard part of Make That Thing campaigns.
I can't give you a comparison with the previously-mentioned After The Crowd as I don't have access yet, but the screencaps and video make it seem roughly equivalent. The one key differentiator that I noticed is that BackerKit appears to give you continuous access to manage your pledge/information, where After The Crowd gave you a time-limited, one-shot access (with the ability to request re-access later if needed).
________________
¹ Fulfillment will involve the wrangling of literal dozens of webcomickers, wood craftsmen, printers, translators, musicians, delicious adorable kittens, and more.
² It's only a matter of time before the enterprise software industry reduces that to "PMS".