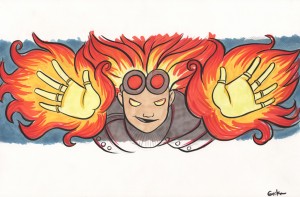 Spoilers if you haven't seen the latest episode of Strip Search: the challenge involved doing a Magic: The Gathering-themed deck for a skateboard, and in a scant 90 minutes (scarcely enough time to come up with a preliminary design and ask for client feedback) some remarkably polished work got done. However, there could be only one winner and that for the challenge and that was "Hurricane" Erika Moen¹ and well deserved it was, too.
The only thing in this particular challenge that caught me off guard was the fact that although the challenge was described as work-for-hire and that Wizards of the Coast would be producing the skate deck for giveaway during Vans Warped Tour, Strip Search host Graham Stark did not, as has been traditional, explicitly say that Moen won x-number-of-dollars for her design.
Also, as this is a work based around another company's IP, the usual rule that "the Artists own everything they produce" may not apply; there's been a lot of online clamoring for one design or another to be produced as a print (notably Maki's), and I've yet to notice any movement in that direction as of the time of this writing. I've reached out to Strip Search executive producer Robert Khoo for comment, and I'll be sure to let you know what I find out².
---
In other news, one of the nicest, most modest guys in webcomics, Ryan Pequin, had some big news last night:
Anyway by the way I'm a real-ass storyboard guy on Regular Show now.

I'm actually almost finished my first board but frankly I expect the ground to swallow me whole somehow before I feel like this is official.

You'll get to see the first episode I worked on in ten months so keep your eyes peeled until then!
Taken as a piece with the other webcomics types working on Cartoon Network–affiliated shows and comics, it certainly seems like webcomics is not just a goal in and of itself, but also a damn fine mechanism for making talent known in other fields.
________________
¹ Personal pick of this page to win the entire competition since the day that the reality show was announced as a stretch goal to the Penny Arcade Kickstarter.
² Keeping in mind that it may be the only answer he can give is Our arrangements with sponsors don't allow me to comment on that, which is entirely fair.