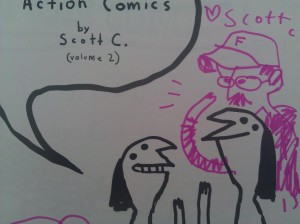 Before we get to stories of people that have their act together and those that don't, I have this one blind item appeared in my mailbox from what appears to be a burner email account and makes the (unsubstantiated, but dang it would be awesome) claim that the Ryan Sohmer/Becky Dreistadt childrens book collaboration,
The Bear, will be launching as a webcomic in the immediate future. I believe that's what's called an exclusive, so yay you for hearing about it first.
Onwards. MoCCA Fest 2013 took place over the weekend and I have to say that I noticed a lot of changes this year. The show's first run (a decade ago) was a smash success as a one-day affair at the Puck Building and immediately shifted to a two-day model in its second year. Alas, 2008 was the last year in that facility, and also the year that a talented group of people left MoCCA's board to pursue other opportunities¹. Unfortunately, when that group left they took a great deal of institutional experience with them.
Had they all stuck around, moving from the Puck² to the 69th Regiment Armory³ would have been a challenge; with seemingly no experienced showrunners on hand, it was … not good. Panels were planned to start the moment the show started; the doors didn't open for a full hour and a half after scheduled opening; the city was under significantly cooler temperatures than the prior year, but it was still sweat-drenchingly hot inside the Armory, with almost no air circulation and no air conditioning4.
Incremental improvements occurred in 2010-2012 (they could hardly have slipped further), and then MoCCA essentially dissolved and transferred its assets to the Society of Illustrators last year, leaving the question in the air: How would the Society manage MoCCA Fest?
Well, we have the answer now: really damn well. Some of the changes made were seen as both positive and negative (the new drapes behind the tables focused attention and cut down on the echoey acoustics, but also cut down sightlines and may have crowded the exhibitors to an uncomfortable degree), some were masterstrokes (the Society did something that MoCCA never managed — the back end of the hall was draped off into a museum-like exhibition space, with some absolutely marvelous pieces from their collection up for display).
From a logistical standpoint, the new MoCCA featured night-before load-in hours instead of a scramble the morning-of, improved line-handling at the entrance (I've never gotten in so quickly), overhead banners to get your bearings, volunteers everywhere I looked, and a return of on-scene food (last seen at the Puck). The only thing that I found would have helped would have been some simple printed placards hanging from the red-draped backdrops to indicated booth name/number.
Johanna Draper Carlson (whom I sadly missed seeing on the floor) declared it the best MoCCA ever, which may or may not be the case (second MoCCA, I met Jeff Smith for the first time; third one, I wound up drinking with Vijaya Iyer, Amanda Conner and Jimmy Palmiotti and we decided that Alfonso Cuarón should direct all the Harry Potter movies, and also I got the best convention sketch ever), but it's certainly the best of the Armory Era.
I realize that I haven't talked a lot about projects from the people I would normally be covering, but mostly they're between announcements — things will be happening by the end of the year, or next year, or when something presently underway is finished, but not much in the immediate term, which meant that I could talk to them about other things — I got to talk to Lucy Knisley about how great I found Relish, but also how much I was looking forward to her Tanzania Travelogue (spoiler: so much, and the zebra she drew me is adorable). I got to thank George O'Connor for a book he did two years ago because he found something new and balanced and sympathetic to say about the very archetype of a wicked stepmother. I got to talk about Doctor Who companions5 with Boulet, touring North America with his entirely brilliant Darkness Noirness
The bit that's most stuck in my head, though, was talking about the show itself with Darryl Ayo Brathwaite about the show itself, where I think he summed up the new era of MoCCA as well as anybody could: the turnaround will stick in the collective memory of comics longer than the hard years and we'll likely see an even better show next year, which is a damn good thing because there's a need for a show like this in the dominant population center of the country. The Society of Illustrators has salvaged the idea of MoCCA Fest, made it into something better, and that's a pretty damn good thing.
On the far side of the good-bad spectrum, the end of the week brought news of the forthcoming demise of Night Shade Books and with it, a great deal of uncertainty regarding the Girl Genius novels. Not being a lawyer, much less a specialist in IP law, I'm not sure how companies can say We're going to sell your contract to another company and they're going to rewrite your contract unilaterally into a form that guarantees you'll never get another royalty check ever and you're going to like it, but there you are.
The alternative is for Phil and Kaja Foglio to (with some appropriate degree of politeness, and undoubtedly through their lawyer) to tell Night Shade Books to take a hike6, which unfortunately brings up the possibility of the rights to the Girl Genius novels ending up in limbo as bankruptcy7 works itself out, a process that literally may never resolve itself.
Barring a change in legal thinking that regards time-limited intellectual property rights (like that to publish books) as automatically reverting to the creator in cases like this, there's not a hell of a lot that the Foglios can do except to see if the aspiring purchaser of Night Shade's assets, Skyhorse, is wiling to offer a contract that doesn't promise a royalty of 10% on net ("on net" means "we can always find a way to accrue costs and make it so the net is zero"). Fortunately, the contracts in question only cover the prose novels, but taking away the ability of a creator to make money from something they thought up and in a way that the contracts didn't allow for? That right there is some straight-up bitchassedness.
________________
¹ I have since had conversations with source(s) that I deem reliable that MoCCA was engaged in activities that skirted the edge of "acceptable practice" with respect to deaccessioning, and that the exodus represented a protest against these policies.
² Which retains some exhibition space but judging by a walk-past I coincidentally had a few weekends ago, the ground floor of the Puck is now an REI store.
³ Most recently notable for being the place that the Victoria's Secret Fashion Show rendered logistical aid to the New York National Guard in the aftermath of Hurricane Sandy.
4 For the third year in a row, I found myself having to render aid in conjunction with a MoCCA show as heat exhaustion affected an exhibitor; in the last two years of the Puck years, I dealt with an impaired individual on the sidewalk who had toppled over his wheelchair and an exhibitor who suffered a seizure at load-in and bashed his head against the wall. Since then I'm happily 0-for-4 on medical interventions.
5 Scroll alllll the way down any of his pages and check out the little Karen Gillan sketch if you want to know why that was a natural topic of conversation.
6 Hopefully the Folgios' lawyer is creative in his wording, like Ken White or Marc Randazzo.
7 My entire experience of bankruptcy was once on the receiving end; I bought furniture from a company that had already started filing under Chapter 7 but not yet announced that fact, continuing to do business that they knew they couldn't possible make good on. Once they filed, they told me I wouldn't get my furniture and the money I'd paid them would be considered an asset and as an "unsecured creditor" I'd have to petition the court to get a fraction of it returned. I said fuck that and disputed the charge with my credit card company and had my balance credited in 24 hours. That's why you don't make advance purchases with checks, kids.