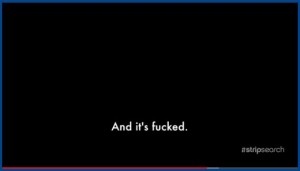 It's one of those words with entirely too many definitions.
Hey, have I mentioned that MoCCA Fest is this weekend? Because it totally is, and I will be roaming the crap out of the show floor¹ on Saturday². Look for a healthy contingent of webcomickers and their natural allies, including the various B9 creators, Magnolia Porter, Lauren Zukauskas, Mike Isenberg & Oliver Mertz, David McGuire, Sophie Goldstein, Sylvan Migdal, Oni Press, Top Shelf, and :01 Books — who will be debuting Lucy Knisley's Relish, which it seems everybody loves.
Let's take a trip to the picture show, as The Economist examined closely the efforts of Freddave Kellett-Schroeder to navigate the waters of Fair Use in the production of Stripped. It says something that the vagaries of US copyright law would get such a close reading in a London-based magazine, but I'm not sure if I can articulate exactly what it says.

It's probably very insightful and about midway between the ubiquity of US-made media and the inability of the newsy segment of that same media to do in-depth reporting on issues raised in odd corners of the culture. Anyhoo, as of this writing there's just under two days left to help get more sound and video clips into Stripped, if you should be so inclined.

From the movie show to the reality show, Stripped to Strip Search:


[Regarding surprises during the production period] Khoo echoed this, noting especially how Krahulik hit a particular point where his respect for The Artists became a major influence on his participation.

Well! We know what Robert was talking about now, don't we? My regard for Mike Krahulik [SPOILERS in that link] has jumped several notches with his insistence that he would not [redacted] the losing Artist's contribution in Strip Search elimination #3.

Very tense episode, and had Khoo not said in previous interviews that every day resulted in an elimination, I would have bet good money that this would be a candidate for playing a "nobody goes home" card. We at Fleen want to congratulate Lexxy Douglass and Tavis Maiden for sharing their best work with us; you both rock.

Dang if it doesn't make my heart sing as Chris Onstad decides to show us he's getting the (metaphorical) band back together:


Achewood's hiatus has been the stuff of much speculation, and the lack of information from me has contributed to this. In some cases, silence on my part was construed as disregard; this truly was never the reason for it. Some of my personal struggles became all-consuming and needed addressing. We can go over the unsavory details later. I'm grateful—and lucky—to be able to tell you that these are, after a long, dark tea-time, behind me. But during this period, many of my relationships suffered. Some were with my readers and supporters. For you affected by my difficulties, I sincerely apologize. Please know I'm working to restore that relationship —- first and foremost by addressing the second cookbook —- and will have good news on that to share with you soon. [emphasis mine]

Chris, all is forgiven if even one of those recipes in the second cookbook is even half as good as Perfect Oven Fries Every Time.
________________
¹ Which is small enough that I'm not bothering with table numbers here.
² Sunday I'm helping to skills-test a class of EMT students, finding out who's learned how to not kill their patients.