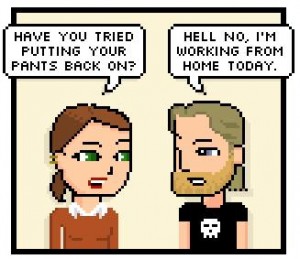 The first one is: No April Fool's Day gags at Fleen. No, wait, the pants thing, that would be Rule To Live By #0, then the April Fool's thing can still be RTLB #1.
RTLB #φ: It's always appropriate to say Happy Birthday, so let's note that Christopher Wright has, as of yesterday, been doing Help Desk for seventeen (occasionally irregular) years, making it one of the Grand Old Webcomics.
RTLB #e: You can never have enough Jeff Smith, ever. Much as I loved his turn towards sci-fi/horror and his turn on Captain Marvel, when I think "Jeff Smith", my eye inevitably turns towards my gilt-edged first printing of the hardcover BONE one-volume collection because BONE is the best and I'll fight any man-jack among you says different. And now we get word that Smith is returning to humor/fantasy, and he'll be doing it as a webcomic called Tüki Save The Humans:
It will be about the first human to leave Africa. It takes place about 2 million years ago during the Ice Age and Africa has been turned into a desert. Everyone is trying to stop Tüki –- the Animal spirits, other humans, and more.

Looking to do this in color from the beginning. Plans to release it weekly online as free webcomic, and eventually releasing the chapters or arcs for sale. Jeff said he would need to have at least 6 months of the book in the can before he started to make sure he stays on schedule.
Big props to Smith for thinking in terms of maybe the most impressive webcomic buffer ever, and finally I get what Smith's wife and publisher, the very smart Vijaya Iyer, was hinting at last year at SDCC when we talked Kickstarter and webcomics and I had the distinct pleasure of introducing her to a mess of people who have figured out the webcomics model.
RTLB #π: Optimism wins out, maybe? I first noticed the Jeff Smith announcement because of a tweet from Faith Erin Hicks, which reminded me that it's time to again talk about Hicks's collaboration with Prudence Shen, Nothing Can Possibly Go Wrong. NCPGW has been running since the fall via :01 Books online-to-print curatorial site, and it rapidly approaching its conclusion (eight pages of battlin' robots mark today's update, starting here).
Now here's the thing: I know how NCPGW ends, because :01 Books were kind enough to send me a review copy a couple weeks back in advance of the 7 May release date. No spoilers, but I can say that although Shen and Hicks have been thoroughly debunking the titular assertion for more than 250 pages¹, I will say that the conclusion is satisfying, reasonably non-painful for the protagonists, and arrived at entirely fairly.
It would have been easy for Shen to make things too easy for her band of barely-speaking-to-each-other rivals, and she avoids it deftly. Along the way, we get a terrific exploration of friends that aren't really, enemies that are really, the absolute terror that's engendered by cheerleaders, and the universal utility of Richard Ayodade.
If this sounds kind of awesome (and it is), and if you plan on being at the MoCCA Festival this weekend, be sure to drop by the :01 table and tell 'em how much you appreciate their providing a platform for such terrific work from such talented creators. I sure will be.
________________
¹ Anybody that has seen or read any story, or lived in any way whatsoever, will be able to tell you that phrases like Trust me and This will absolutely work and Nothing can stop us are full of deception. Especially when used in proximity to references to industrial-strength weed killer.