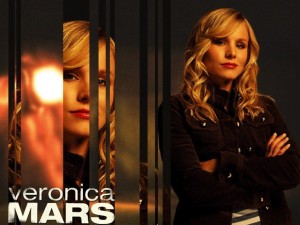 Sorry, @malki – I was pretty convinced you were going to hit $500K until the Veronica Mars project dropped. ;)
— TopatoCo and Make That Thing impressario Holly Rowland, yesterday afternoon.
This is likely to be ramblier and less structured than much of what I write. Apologies in advance.
I am deeply conflicted on the burning-hot Veronica Mars movie Kickstarter (presently about 16 hours in and a total of US$2,749,938 raised). Not because I never watched Veronica Mars when it was on TV and am not invested in it — the fact that I don't have any interest in the project doesn't make it threatening to me or the projects I want to back¹. I'm conflicted because it's got me wondering deeply about the purpose of Kickstarter.
Some people in the Net-o-Sphere are objecting to the project because it's large, because it's not a personal endeavour done by a creator (or small group), but that doesn't bother me either. Kickstarter can be for little folks as well as big folks². Rather than finding the scope troubling, I'm worried more about the why of Kickstarter in this case.
Let's take another moving-pictures example. The Cyanide & Happiness folks have raised (as of now) US$583,142 towards a streaming TV show. While C&H is pretty darn successful, I kind of doubt that between them Kris, Dave, Matt, and Rob have the quarter-mil that was their original goal sitting around in the couch cushions; without the campaign, they couldn't have made the show happen³.
I'm sure that Veronica Mars creator Rob Thomas likewise doesn't have two million dollars (his original goal) to make a movie sitting around — but that's not to say that the movie couldn't have been made. It's my understanding that although VM is his baby and brainchild, the rights and ownership reside with Warner Bros., who merely have chosen not to make a VM movie because they didn't think it would be profitable enough. They could find two million dollars if they wanted to without even dipping into next month's hookers-and-blow "office supplies" budget, but decided instead that Thomas should do the legwork to prove the demand for such a movie.
In other words, Kickstarter is being used not as a funding instrument (like a bank loan), but more of a second-order financial instrument; if my listening to Marketplace hasn't led me astray, it's akin to the process known as "leverage" — I put up a bit of money, get others to put up more, and then they have an ownership interest but the risks are still mostly on me to make the enterprise work. It's how takeover-and-dump financiers made money by breaking up or shutting down companies in the '80s and '90s.
Not that Thomas is of an ilk with the financial cowboys who trashed the economy two or three trashings ago; he's a creator that wants to make something, but has to play by somebody else's rules. Warners, in this case, has created a situation where they are guaranteed to make money — Thomas has raised the money to make the movie and gin up the audience, they distribute/own it, keep some of the money and pay him some4, and don't have to bear any risk. They will make exactly as much money as they would have had they put up the two million in development/production costs, but without having to put up the costs in the first place.
Which I guess means they make two million dollars more than they would have. Sweet deal for them.
It really reminds me of the very bad publishing contracts that Scalzi has been writing about where the publisher (in this analogy, WB) expects the author (Thomas) to bear all the costs and risks that would traditionally represent the publisher's investment against the possibility of profit. It's disturbing.
Not that there aren't similar arrangements in popular entertainment already. It's my understanding that even long-anticipated videogames may be canceled if they don't garner enough pre-orders to help cover the costs of development. However (and please correct me if I'm wrong, as I've never pre-ordered a videogame), if I were to buy a game on Day One of release, I won't pay any less than somebody who pre-ordered (although I may have to wait for a supply to come in). If I were to back the VM Kickstarter at the lower tiers, my outcome would be:
Pledging less than US$35: I still have to buy a ticket to see the movie when it comes out (with a PDF script and/or t-shirt as a side reward)
Pledging US$35 to US$49: I get a digital copy of the movie to download, but still have to buy a ticket to see the movie in a theater (plus the script and t-shirt)
Pledging at least US$50: I get the DVD when it comes out, but still have to buy a ticket to see the movie in a theater (plus the script and t-shirt)
I'd feel a lot more comfortable if there were some way for backers at some threshold (say US$10 or US$15) to get a free pass to the movie, but accept it may not be possible. However, I'd really like to focus on that third reward: US$50 for a DVD. Compare to somebody who doesn't contribute to the campaign: I can buy a ticket same as a backer, and when the DVD comes out, it sure as heck won't cost fifty bucks. The non-backer is advantaged over the backer in this situation. The DVD will not be exclusive to backers; Warners will sell that sumbitch to everybody they can, because that's money they'd be leaving on the table otherwise.
The advantages to the backer of the Kickstarter are less than to those of the non-backer. It's not like you won't be able to see the movie if you aren't a backer, or have to pay more, or get to see it before non-backers by a significant amount of time. Were Thomas the owner of the project in a meaningful sense, that might happen; but WB is designed to get as many people as possible to give them as much money as possible, which only happens by not treating the backers as privileged.
Finally, Thomas appears to have embraced the Kickstarter ethic of "more money, I'll make the thing better for you", talking about how much more he can accomplish within the film with a higher budget. Kudos. Looking at megasuccessful Kickstarts in the webcomics sphere, hitting hundreds of thousands of dollars won't make Ryan North or Zach Weinersmith or Aaron Diaz richer, because they're putting the money back into the project and giving the backers more for their money; in fact, given that they've taken on more work and production burdens, it's arguable they come out behind in such a deal.
But I can't shake the feeling that while Thomas will be giving back to the backers in such a fashion, the more direct outcome will be a bigger inflow of money (given a more polished film that generates more demand) to the studio who — again — seem to be reaping rewards without shouldering any burden. It would kill Kickstarter, which would be no real loss to the corporations, but a devastating blow to the independent creators who were its original reason for being.
So as my thoughts have evolved in the time it's taken to write this (and as the campaign has increased its take to US$2,759,088), I guess that means I've coalesced around several objections:
Kickstarter isn't being used to make a project possible for a creator so much as it is to minimize effort by a rights-holder
Kickstarter is being used as a complex financial instrument rather than a funding mechanism5
Backers are disadvantaged compared to non-backers6
The creator is undertaking the burden of both raising capital and production, but the purported publisher will be making money without a matching risk or investment
I hope that Thomas breaks all records and that VM fans get exactly what they want from the movie; I also hope that this isn't the start of a trend to use Kickstarter to burnish the bottom lines of corporations that could make projects but choose not to without a guarantee of profit.
PS: US$2,769,005.
_______________
¹ And to be perfectly clear, that quoted tweet up top does not indicate that Holly Rowland is threatened either; in fact, I believe that she's backed the project.
² As far as keeping Kickstarter a viable platform, having some really huge fundraisers is valuable, given that they make their money and keep their service running by taking their cut from successful projects.
³ At least not on their terms; multiple networks were willing to finance it at the cost of ownership.
4 I'm being optimistic here that Thomas is smart enough to budget into the two mil a salary for himself; I don't think for a second that a studio with a guarantee of income would pay out any more than they absolutely had to, following a decade of accounting voodoo.
5 If we continue down this path, there could come into being Kickstarter-based derivatives, and then that's the beginning of the end. The purpose of the platform will be to make money by making money instead of making money by undertaking projects. It's also how the economy got trashed the most recent time.
6 We're assuming a successful delivery here; there's plenty of projects where the backers are disadvantaged by getting their rewards late or not at all, but in those cases non-backers typically don't have the opportunity to get anything of substance from the project.