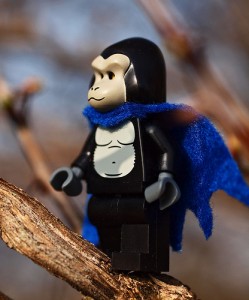 We'll be starting out with the happy items before we get to the infuriating stuff at the end. You've been warned.
We're still most of a month away from the release of Lucy Knisley's Relish¹, but that's not to early to make plans to celebrate it when it hits the market. The Cartoon Art Museum in San Francisco is doing exactly that, having announced an author's appearance:


The Cartoon Art Museum welcomes cartoonist Lucy Knisley on Sunday, April 14, 2013 from 1:00-3:00pm for a discussion and booksigning of her latest release, Relish, published by First Second Books. This event is free and open to the public.

And heck, let's mention another upcoming event, featuring a man that probably every comicker born after about 1960 considers a major influence:

The Cartoon Art Museum and Chuck Jones Center for Creativity will host a special reception for the exhibition, Chuck Jones: Drawing on Imagination on Saturday, March 23, 2013. Special guests include Chuck Jones' widow, Marian Jones, his daughter, Linda Jones Clough and grandson, Craig Kausen, who is the Chairman of the Chuck Jones Center for Creativity, as well as other guests from the family and the Chuck Jones Center for Creativity. Proceeds from the event will benefit the Cartoon Art Museum and Chuck Jones Center for Creativity.

Since that event is a benefit, tickets will cost you US$10 (with an additional US$50 for VIP access). Having spent many, many hours in study of Chuck's various works, I can tell you without reservation that if I were on the Left Coast I would absolutely be there.

I'm pretty sure I met the guys behind First Law of Mad Science last October at the 2012 NYCC IDLH experiment; I spent some time on Saturday bringing pizza to hungry webcomickers and although I missed Meredith Gran (who was boothing with FLOMS), I did leave some pizza for creators Mike Isenberg and Oliver Mertz. Nice fellows.

So nice, in fact, that in order to get the word out regarding the second & third issues of FLOM launching on Comixology, they're giving away free download codes for the first issue. Just be one of the first 50 people to tweet to them at @FirstLawComic² and you'll get a redemption code that you can plug in via your Comixology account. That's it! Free comics!

Not webcomics, but holy geeze go read it: The irreplaceable John Scalzi has spent the last couple of days eviscerating a contract being offered up by new e-publishing imprints at Random House that is so amazingly bad I can only hope that Random House will release a statement in a week that says, Yeah, sorry, we were totally blitzed on cough syrup when we wrote that. Our bad.

Hey, TopatoCo? After Make That Thing finds its feet and you're looking for your next realm to conquer, it seems that e-books needs a publisher that isn't criminally stupid about how nakedly it's seeking to exploit authors.
________________
¹ Which you may recall that we at Fleen found to be a terrific book, and you should definitely go buy it when it releases on 2 April 2013.
² I always thought that the First Law was Ape shall never kill ape, but whatevs.