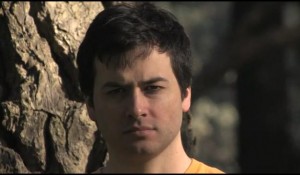 Everybody's on a plane right about now, heading to Emerald City Comic Con; I suppose it'll be just as bad when TCAF or SDCC come around, but man I'll breathe easier when this flight lands in Seattle:
.@aidosaur @yaytime @goraina @dresdencodak @caitefa @MagnoliaPearl @hanoodlez @jnwiedle @johngreenart @jonrosenberg on same flight! Wowwww
Go safely, my friends. Oh, and when Aaron Diaz lands, somebody tell him that his Kickstarter cleared US$200,000.
Speaking of Kickstarts, Ben Costa's Shi Long Pang, The Wandering Shaolin Monk has built up enough pages for Volume 2 to hit, to the production of which you may now contribute. Pàng, The Wandering Shàolín Monk, volume 2 is, in the few hours it's been up, about 10% of the way towards its relatively modest US$6000 goal. Sure, there are Kickstarts asking for less, but consider that PTWSMv2 will match the form factor of volume 1 (full disclosure: Costa was kind enough to give me a copy at SDCC 2010, namely a full-color, heavy-stock, hardcover volume which is as well-designed an upmarket as anything put out by :01 Books.
For a self-published collection, it's about as high-quality as you can get, and it's offered right at the base reward tier, US$25 bucks to get a copy sent to you in August. Bargain of the year, easily, and that's before you factor in the pitch video, which features 1970s-style Hong Kong cinematography and cheapo, out-of-sync dubbing. For anybody that grew up watching Black Belt Theater on channel 11 out of New York (or your local equivalent), the video is a trip down nostalgia lane, and no less than one would expect from the Dean of Iron Crotch Studies at Iron Crotch University¹, and founding publisher, Iron Crotch University Press.
______________
¹ Home of the Fightin' Rusties.