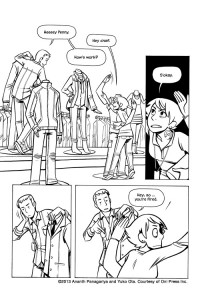 Everybody is either in transit to Seattle for EmCity or making final preparations before leaving tomorrow. I could mention that Dresden Codak's Kickstarter is being reported as the fastest-funding initial 24 hours of any comics project and is already the #8 most-funded Comics project after approximately 40 hours, or that the Machine of Death card game Kickstarter has just unlocked something called — rather ominously — FATE BLITZ, but we've heard enough about those two projects of late, so I won't.
Instead, two brief items:
One, for the next while, Yuko Ota and Ananth Panagariya will be running Lucky Penny in lieu of their regular diary strips. For those that didn't catch the announcement last year, Lucky Penny is an original graphic novel by Panagariya and Ota for Oni Press, which unfortunately doesn't seem to have a release date just yet. The shift to LP will let Ota work on just one thing for a while, hopefully speeding the day when we see a print collection, new Benign Kingdom projects, and more.
Two, I have on past occasions mentioned Christopher Bird and Davinder Brar's Al'Rashad: City of Myths, a weekly longform comic of politics, religion, intrigue, and characters that tell you what you need to know about them by how they dress¹ and hold themselves when they speak. It's terrific stuff.

But please note that I said "need to know", as for a great deal of time I have wanted to know a great deal more about these characters and the world they inhabit; my guess is perhaps 10% of what Bird has world-built in his head will ever see the page. And wonder of wonders, Bird has answered my silent plea with a character page chock full of biographical and geopolitical nuggets that make my heart sing. I am so happy that I'm not even going to engage in the privilege of every comics reader and kvetch about the obvious contradiction between biography and previously established story and clearly Bird doesn't care about continuity like true fans would and … [Editor's note: At this point Gary was dragged away and had some manners slapped into him; we apologize for the fuss.]

Ahem. As I was saying, please enjoy Al'Rashad, updates Mondays, and please overlook both my misplaced enthusiasm as well as my inexplicable omission of Al'Rashad from the recommended comics list over there to the right. Get to reading.
_______________
¹ I particularly note that the Caliph of Al'Rashad dresses very plainly, which reveals great deal of his character.