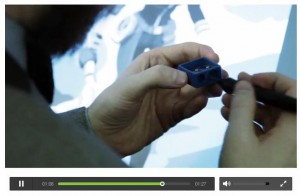 The annual scramble for San Diego Comic Con hotel rooms started at 12:00 noon EST and by 12:02 I was done with a promise of an email with my assignment. Here's hoping.
Oh, and since this is going to be a Kickstarter-heavy post,let's get something non-Kickstarter out of the way up front — I have of late been enjoying the crap out of Help Us! Greatest Warrior, which appears at a Tumblr near you The title character is bean-like, more than a little dude-crazy and will utterly kick your ass if she can be bothered. Creator Madéleine Flores has been killing it, and you should hit the (very brief) archives right now.
Is this new? I think this is new. David Malki ! posted in an update for the Machine of Death card game Kickstarter that he will use the powers of technology to add a special reward for backers that also back a different, unrelated game. This is, I believe, the first Kickstarter crossover:


Story War is a little bit similar to Machine of Death in its broad strokes ("combine random elements to accomplish a wacky objective"), but varies in the particulars.

If you pledge to both games (physical versions), we're gonna compare our backer lists and each send you an exclusive bonus card: a Machine of Death card that references Story War, and a Story War card that references Machine of Death! We'll also send you a PDF with a set of suggested CROSSOVER RULES for combining both cards in HIGH STAKES INTERLEAGUE PLAY. [emphasis and SHOUTING original]

I can't wait to see what other cross-pollinations this might lead to. In this case, it's a match of equals (both Story War and Machine of Death are well over their goals, so neither is trying to gain success by drafting off the other), but I could see especially successful projects being approached by struggling projects, trying to succeed via cross promotion that mostly goes one way. Secondary market, anyone?

Speaking of secondary markets, about ten days back we mentioned a new service from TopatoCo called Make That Thing with some speculation about how MTT might be structured and a promise of more details soon. That was supposed to have been last weekend via an interview with TopatoCo VP Holly Rowland, but weather systems (and now EmCity) got in the way, so we'll be talking with Holly next week.

In the meantime, Make That Thing had a public unveiling last night, and we're able to see some of how MTT is going to operate. In addition to shipping and fulfillment services, MTT will be offering promotional services, and will also be able to offer certain kinds of production:

Because each campaign involves a high amount of personal attention and attention to detail, we only take on a handful of projects at a time, and only those that we think match up well with the kinds of things we know how to make – primarily comics, books, and games.

We don't know how to make USB toasters or solar-powered flashlights, so we simply won't take on Hardware, Design, Video Game, or Fashion projects. Other people are better at that than we are. However, the rewards for your project are heavily weighed toward the following:

Printed materials (books, comics, posters)
Printed or embroidered apparel items (T-shirts, polos, neckties, aprons)
Novelties and baubles (stickers, patches, bookmarks, foam swords)
Other things that don't involve inventing a new type of manufacturing apparatus

Then we might be a good fit.

They're in closed beta right now, and as MTT finds its feet, I suspect they'll be taking on projects primarily from the existing roster of TopatoCo clients. However, I wouldn't be surprised in the least if future clients found an MTT campaign as being similar to an audition for joining up with TopatoCo as an ongoing client. More when I get to chance to talk to Rowland, where I'll be sure to ask who thought it was a good idea to leave a forklift with the TopatoCo Funployees.

Speaking of Make That Thing, we knew that the Machine of Death card game was going to use MTT on account of that was sort of their soft launch. Now we know that their second client will be the Dresden Codak book which is well into holy shit territory with nearly US$120,000 raised in the first 15 hours. Aaron Diaz¹ has been hard at work since launch trying to come up with stretch goals that he hadn't anticipated needing for a week or more. Even if you don't read Dresden Codak, go check out the campaign just for video, then ask yourself honestly how fancy your pants are.
______________
¹ The Tolkien and Dinosaur Scholar Par Excellence. Oh my glob, Aaron, you need to draw the main players of The Silmarillion as maniraptors.