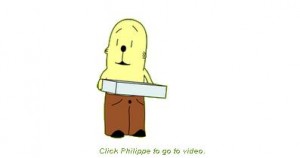 I ain't Elisabeth Kübler-Ross but I do know something about the stages of grief, such as when Achewood (the once-unstoppable behemoth of absurdist-realist philosophizing) sputters to a near-halt¹. As noted previously, Chris Onstad is not my bitch and however he may find joy in producing aspects of Achewood that I may then consume, it's all good. I get to share that particular creation that he lets loose on the world whether it's once a day or twice a year, and however much I may miss it, I cannot complain too much about not getting free entertainment on a my desired schedule rather than that which Onstad can accommodate given the shape of his life.
So it is with a mixture of excitement and don't-get-too-excited-yet that I noted his first Achewood-related bloggance in more than a year:
Hi. I'm back. I have some good news for you. It's been a long time coming. A lot has changed since I fell off the face of the earth.

First and foremost: I've been working with a team of artists, engineers, and producers to bring Achewood to life. To give it the voices, richness, and opportunities it never had as a comic strip.

I'm flying to Los Angeles today to begin a week of network pitch meetings. If things go well, we'll find a home for our show. Please cross your fingers for us, send us your good energy. And please, share this clip with your world. I'm very proud of what we've done.

There are many other things I want to share with you. About Achewood, about this, about all the loose ends, and about my plans for it going forward. This is the tip and the bulk of the iceberg, but there is much more. It's been a very busy couple years, full of life-size tragedies, manifold germinations of happiness, and surprising rebirths—just like Achewood.
The pitch meetings mentioned are to explore the possibility of an Achewood-related animated series? special? film? project of some sort, the teaser of which makes me smile. Because I'm totally in the tank for Achewood, I've been parsing through those 19 seconds of sound and motion² for any clues they might offer³. Because I'm a realist, I know that even properties with a constituency within an entertainment company can be optioned, paid for, and spend years or decades in development without ever coming to fruition. At this time, possibilities exist — which is more than was true last week.
Poorcraft 2, on the topic of traveling on the cheap, is well in production and on Saturday Poorcraft bookrunner Spike dropped some news on it. While P2 will see Diana Nock returning for art duties, Spike herself will be stepping back from writing duties as Ryan Estrada — webcomics own Marco Polo — handles the script. Or handled, as the book is well into the gettin' drawed stage, meaning that Estrada's work is largely done. Can't wait to see how Poorcraft: Wish You Were Here turns out.
Updating our EmCity seating information, news comes this morning that a fairly substantial chunk of Artists Alley island F will be given over to Benign Kingdom. The official exhibitor's list mentions B9 occupying seat F-16, which is also listed as the home of Johnny Wander. However, word is that B9 will actually occupy seats F12-F16, of which three seats are listed as occupied, and two not listed, which tells me that Grand Vizier George is probably planning to have people rotate into the space seats throughout the show, as well as giving the usual occupants a little more breathing room than is normally found in Artists Alley.
Given that various Strip Search parties have said that the show will be launching this month, and that the Strip Search site lists the show as running Tuesdays and Fridays, and there's only one of those weekdays left in the month, Im'a keep a browser window refreshing tomorrow. If nothing else, I've been very impressed with the Artist interviews that have run, and how well the Strip Search producers (possibly Khoo) are at stirring up shit in such a blatant fashion. If there's a reunion show, we may see murder yet.
_______________
¹ To wit: five strips in all of 2011, twelve in the first six months of 2012, and zero since.
² As opposed to Sound and Motion.
³ Such as the 0:11 mark, where it appears that Teodor has been retired in favor of Roast Beef as Ray tests his Whiskey á la Mood sampler. It also appears that Ray is the centerpiece of this teaser, which makes me wonder if he still sounds the same as when Onstad voiced him.