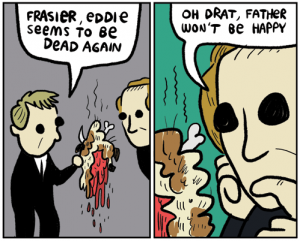 If anybody was going to do an extra-special comic for update number Six! Six! Six!, you knew it would be KC Green.
Ah, late February, when the comic-reading public's fancy turns towards the far northwestern reaches and the first major show of the year: Emerald City Comic Con. As in past years, the webcomics contingent and their allies are well represented but the show floor is a bit compex, recalling the bifurcated layout of MoCCA Fest back when it was still in the Puck Building¹. The main floor of EmCity is broken into North and South areas, with a section of Artists Alley in each area. Let's break 'em down so you can find people.
The bulk of the webby-ish creators are going to be in the South area, shown here: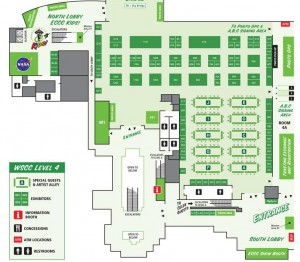 And the showrunners have helpfully clustered webcomics types within about a two-aisle radius of the easily-located Dark Horse booth (1102), immediately in front of the main hall entrance. Start from there and follow the arrows: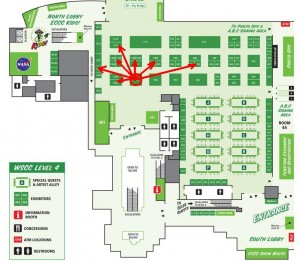 and you'll end up in the booths of Weregeek/Lunasea (705), Wasted Talent (806), the Great and Bountiful TopatoCoan Empire (with a dozen or more creators at 905 and 1002), Kel McDonald, Kory Bing, Magnolia Porter, Meredith McClaren, David Willis, and Tyler Crook (1008), Dave Kellett & Kris Straub (1107)², Something*Positive and Girls With Slingshots (1108), Scott Kurtz (1105)², Blind Ferret (1106), The Oatmeal (1202), Girl Genius (1204), The Devil's Panties (1205), Brad Guigar (1206)², and Unshelved.
Staying in the South area, the bulk of the Artists Alley denizens may be found in the B, D, and F islands: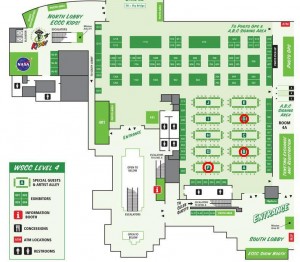 That would be Katie Cook (B-08), Raina Telgemeier (B-10), Dean Trippe (D-01), KrazyKow (D-03), Dave Roman and John Green (D-11), Mary Cagle (F-10), Evan Dahm (F-12), Phil McAndrew (F-13), and Yuko & Ananth (F-16).
Casting your eyes to the North area, you're going to want to head left coming off the Sky Bridge: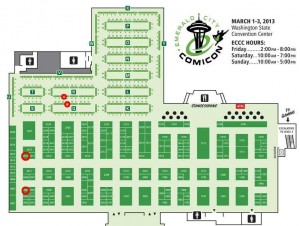 Over on the west side of the hall you'll find Alaska Robotics (2606), Erika Moen and Dylan Meconis³ (2615), John Troutman and Ryan Smith (Q-19), and the Cloudscape Comics collective (R-03). It's a little bit of a hike from the South area, but worth the few minutes it'll take you to traverse the distance.
Naturally, I've probably missed people in my survey that I should have included, so if you want to correct any oversights, the comments are open and awaiting your feedback.
Edit to add: exhibitors to list, updated map of the North area.
_______________
¹ Back before the Great Comics Conflagration of Aught-Eight. Such a tragic day.
² The members of Halfpixel appear to have split themselves across three booths; unconfirmed reports indicate that they may be arriving at the show in separate limousines, and that Yoko Ono has been seen canoodling with an unnamed member of the collective. More on this as it warrants.
³ If you see Snowicane Erika, ask her if this time she's come to Seattle to make friends. #teamerika