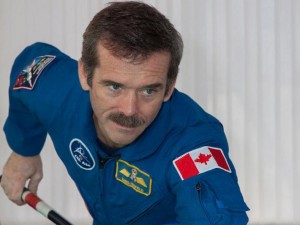 I don't mean to be flip, and we will talk comics in a minute, but today almost all my mental bandwidth is being taken up by a music video featuring a youth choir, the Barenaked Ladies, and Commander Frickin' Hadfield¹. I am not immune to earnest hopefulness, especially when it's got a catchy tune.
So, comics.
I first noticed French webcomicker Boulet about this time last year when he posted an absolutely astonishing 24 hour comic called Darkness. Today I noticed an announcement from AdHouse Books that Darkness will see print in April which makes me very, very happy. Sadly, it's being produced in limited numbers, and will primarily be available — as near as I can tell — at Boulet's appearances at Stumptown and MoCCA. If you get a chance to grab a copy of Darkness, absolutely do so.
KaBOOM! continues mining the talent of webomickry and indy arts for covers of its Cartoon Network-spinoff comics, with Brian Butler, Mary Cagle, David McGuire, and Mad Rupert getting the nod for the covers of Regular Show #2. Gotta say, Rupert's realist take on the main cast is one of the funniest things I've ever seen.
Finally, congrats to Brad Guigar, for today marks the day that his internet comicking efforts become a teenager, and we all know how difficult teens can be. In three years when his webcomics are screaming that they hate Brad and why can't they borrow the car, be sure to give the guy some love.
_______________
¹ He is seriously the most inspiring, fire-up-everybody-on-the-potential-of-space astronaut we've had since forever.