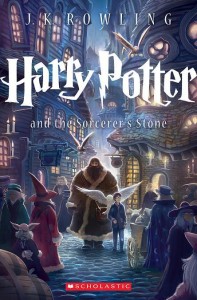 The big news in webcomics has to be the PR maelstrom surrounding the fact that the fabulously talented Kazu Kibuishi has been selected to produce new covers for the US trade paperbacks of the Harry Potter novels:
The stunning art for the new editions is by critically acclaimed artist Kazu Kibuishi, best known for his #1 New York Times bestselling graphic novel series, Amulet. Kibuishi is a longtime Harry Potter fan who called this opportunity, "more than a little surreal." Each of the seven new covers will depict a distinctive and memorable moment from the respective book. The collection, which will also be released in September as a boxed set, will offer new readers just reaching the age to begin the series a glimpse of J.K. Rowling's magical world and the epic story they are about to enter.

"The Harry Potter covers by Mary GrandPré are so fantastic and iconic," said Kibuishi. "When I was asked to submit samples, I initially hesitated because I didn't want to see them reinterpreted! However, I felt that if I were to handle the project, I could bring something to it that many other designers and illustrators probably couldn't, and that was that I was also a writer of my own series of middle grade fiction. As an author myself, I tried to answer the question, 'If I were the author of the books – and they were like my own children – how would I want them to be seen years from now?'
Even if Kibuishi wasn't in the Scholastic family¹, there could hardly have been a better choice than Kibuishi, given his feel for the balance point between the fantastical and mundane, his appeal to YA readers, and his ability to convey flight better than anybody this side of Miyazaki².
We shouls also Note the fact that Kibuishi apparently serves as his own Secret-Keeper — some of his closest colleagues and friends are deep into Potter fandom and they didn't know. One entirely plausible reading of a tweet would indicate that his wife didn't know. Well done, Kazu, and I think I speak for all of us when I say I can't wait to see the rest of the covers. Also, congratulations for finding the rarest of all things: a work for hire job that actually does provide high-profile exposure benefits for a career.
Speaking of gorgeous pictures, it was actually a bit of a tough decision to put that Kibuishi piece up top, given that there's also an Anthony Clark-designed Baffler! to share with you. Can there ever be anything as wonderful as Beartato with a pizza for Reginald and Harrison? No, there cannot, unless you maybe consider Conscience Cat riding a corgi by Sam Logan.
It appears that Federal agents with chips in their heads that can see into the electromagnetic spectrum are now a thing, but answer me this: will the (as yet unpublished) YA novel or the TV series it's inspired feature the ghost of Ben Franklin? Or a hyperintelligent, Machiavellian, and thoroughly chlamydia-ridden koala? Or a plethora of dick jokes? Stick with the original, and consider that this may have an upside: AGAHF creator K. Brooke "Otter" Spangler has commented that this will prod her to speed up the timetable for completing her spinoff novel, Digital Divide, the first three quarters of which is really good, you guys.
_______________
¹ They publish the Amulet series [warning: potential time-suck once you discover how to make the characters conga the day away].
² I remain firm in my belief that the only reason that Kibuishi is not the living reincarnation of Miyazaki is that Miyazaki is still alive.