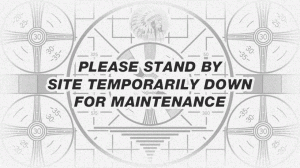 Strip Search appears to be on the verge of going live, having graduated from a parking page to a test pattern. I'm not a betting man¹, but I'd wager that we'll see the site live in the next day or two. Then it's just a matter of how long Robert Khoo feels like teasing us before the first episodes start streaming.
Webcomic? Check. Crossovers? Check. Print collection? Check. Original print series? Check. Card game? Check. TV show? Check. What's left of Malachai and Ethan Nicolle to conquer? Judging from the photos tweeted by MTV² Geek, the answer would be toys. Weirdly, searching for "Axe Cop" at the website of Mezco Toys brings up a couple of Thundercats figures, so I guess they're really early in the preview cycle for now. There's a reference to Axe Cop in Mezco's exhibitor profile for next week's New York Toy Fair so I'd say wait for the summer's big shows to see these generally available.
To paraphrase James³ and Marque, Being broke sucks, and now Jerzy Drozd is the latest creative type to try to make it suck less. Tomorrow will see the Comics Are Great! show will do an on-air Google+ hangout, with special guests Laurianne Uy and Poorcraft scribe C Spike Trotman on the topic of smart frugality. If you can't make the Hangout, tomorrow at 12:30pm EST (GMT-5), it'll be up at the Comics Are Great! YouTube channel sooner rather than later. It's a live event, so warm up your questions on how to make do with less for fun and profit.
Surprisingly, nobody is in the running for a free copy of Johnny Wander volume 3, as per the contest announced last Friday. It's not even in the store yet, people! You can only get this is you were in the Kickstarter! Free book, people!
_______________
¹ It's that whole "pretty good at math" thing.
² Who're still on my list for the shameful way they treated Rick Marshall Willenholly, so you best watch yourself, Viacom!
³ History's greatest villain.