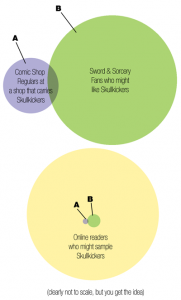 That title was "Linkapalooza", and it featured a photo of Frank Zappa in an Uncle Sam-patterned oversized novelty tophat because at that time that title produced that result in a Google image search. Anyhoo, things to point you towards today.
_______________
¹ Note for our younger readers: a "newspaper" is a means of distributing information by printing it on multiple sheets of thin paper, folding to a convenient size, and making it available for sale to interested parties. Formerly, they roamed the American landscape in vast herds, but the population has lately dwindled to near-extinction levels.
² Which tends pretty much all the way towards the "destruction" end of the spectrum.
³ Who are all the very best people, and I always make sure to drop by their booth at any show I attend to buy anything I don't have already, but also just to say hi. Seriously, they're wonderful.