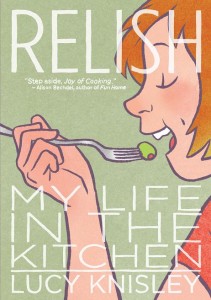 I can always tell it's going to be a good day when Gina Gagliano sends me a review copy of whatever :01 Books has in the release pipeline; honestly, that imprint's name is the closest thing that exists to a sure bet in the world of publishing. Not everything by :01 is going to appeal equally to every segment of their audience, but it's surely going to be a well-executed, handsomely-produced piece of graphic storytelling.
In other words, feel free to judge a certain subset of books by their cover, or at least that little bit on the base of the spine that Colleen AF Venable¹ put there.
Lucy Knisley has been featured on this page in the past, often in relation to her food-based comickin', and sometimes just as a countervailing opinion in my ranting on the topic of molecular gastronomy. If I have perhaps given Knisley's other, non-food-centric work short shrift, maybe it's because she does the food part so very, very well. Case in point: Relish0, which neatly straddles the line between memoir and foodie travel journal. There are recipes, reminiscences, and a bit of retrospection. It's masterful.
Not a lot of people Knisley's age can produce a work that seeks to sum up their lives (and although Relish doesn't have a plot, per se, I will be mentioning specific things that happen, so Beware Ye Who Fear Spoilers)without coming off as self-important; Knisley, on the other hand, is saying less Look at me, I'm interesting and more Hey, did I ever tell you about the time I was twelve and my buddy got fearful of Mexican Customs and ditched two hundred dollars worth of grade-A porn in an airport bathroom? The former can rarely be accomplished without interminable smugness; the latter is a tease that draws you in, and probably starts a conversation about the stupid things you witnessed (or did) in your own tween years.
The artwork has just enough detail to imbue the characters and places with weight and existence, without so much as to make them distancing. Who remembers everything from when we were six or seven in perfect clarity? There's a bit of fuzziness to those memories, with the shapes a bit simpler, the colors a bit flatter than how it must have been, and that's where emotional truth comes from. The clean, simple designs that Knisley uses feel more real than the family photos she used for reference that get a few pages in the back².
And what a realness she shares — sights, sounds, and above all smells from her own life, and passed down in family stories. Food (the preparation of it, the preferences for some things and not others, the experience of eating it) form the lens through which Knisley shares the stories of her life and how it helped her grow into the person she is today. She even manages a spirited defense of occasional indulgence in junk food³ that halfway convinced me that maybe my diet should contain a few more nitrate-laden, won't-rot-no-matter-how-long-they-sit McFries.
Every food has its own value4, she could be saying, which corresponds pretty closely to And so does every person and experience5. From farms to gourmet markets, street-food stalls to the finest restaurants in the world, Knisley has embraced food in all of its various forms and made it part of who she is. Like good hosts everywhere, she's inviting you (in April, when Relish releases) to sit down and share in this bounty. Breathe in deeply, take your time, come back for seconds, and bon appétit.
________________
0 Or, more fully, Relish My Life In The Kitchen (as it appears on the cover and title page) or perhaps Relish: My Life In The Kitchen (as it appears in the supporting information from :01). I love the fact that the title can be read two very different ways depending on whether or not you include the colon.
¹ I consider it symptomatic that I've gone completely bonkers given the fact that I have a favorite book designer.
² Actual thought I had when I saw Knisley's author photo in the back: Wow, good picture. Looks almost like her. My brain had accepted the cartoon Lucy as the reality to which the photo must have referred.
³ Sugar, salt, fat, and artificial flavors are bad enough; young Knisley goes so far as to make a request for ketchup that earns her mother's ire, and to purchase McDonalds in the heart of Rome, sending her father into a tizzy.
4 Well, everything except for one spectacularly foul recipe that a friend of Knisley's made; it involved basting chicken in frozen concentrated lemonade.
5 And even that lemonade chicken fiasco has the benefit of being a touchstone between friends that will never be forgotten.