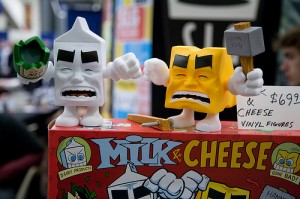 Photo by Scott Beale/Laughing Squid
It may help to have some gin on hand.
If you're gonna have capital-A Art, then tanjdammit, you ought to have Art that provokes the occasional Art Riot, by which I do not mean some bluenose tut-tutting on TV about how something is insufficiently in line with existing religious or moral beliefs; I'm talking angry Parisians or perhaps Viennese in the streets, offended to their very core that something so wrong could be perpetrated on an unsuspecting world. And if this were 1913 instead of 2013, I do believe that we would have righteous cause for such an action:


"I'm really not sure what you call this," says TopatoCo founder and CEO Jeffrey Rowland. "There's probably a German word for it, but I'm afraid to look it up."

If the entire internet, in all of its random, rambling, poor-spelled, nonsensical non-glory could be distilled down to its very essence, it would be the Sweet Bro and Hella Jeff hardcover collection from TopatoCo. It is the sort of revolutionary, transgressive, frankly frightening creation that makes me want to tear the seats out of an opera house and give future radio¹ documentarians cause to talk about the unrest in hushed, sincere tones². This is Le Scare du Printemps for a later, more addled age:

The book Sweet Bro and Hella Jeff lavishly presents the comic's entire run in a treatment worthy of the highest masters of the form. It contains a completely gratuitous 4-page centerfold reading simply "centaurfold" in bright pink type.

"The printing company we used was utterly convinced that we, as designers, didn't know what in the world we were doing," says [book co-designer David] Malki [!]. "The proof sheet listing supposed 'errors' in the book's layout ran five pages long. I had to initial each one saying, 'Yes, that's OK. Yes, that's OK. Yes, that's OK, trust us.'"

Scattered throughout the book are perforated business-reply cards taking the form of irredeemable Subway coupons (a first for comic strip collections). Each copy of the book also comes with a "travel version" (a removable poster of all the book's pages in grid format); a custom commemorative coin (randomly chosen from 4 designs struck); an oversized plastic paperclip imprinted with the word "paperclop"; and an animated lenticular bookmark. Bound into the spine is a red ribbon approximately three feet long, and if you scratch the nacho chip sticker on the back cover, it smells faintly of pizza. (The hologram sticker of Tony Hawk smells only of chemicals.) [emphasis original]

The Sweet Bro and Hella Jeff Limited Hardcover is available for US$44, in one print run, while supplies last. I'll put this link up just in case you need it; you're on your own for torches

Speaking of riotous unrest, "Uncle" Randy Milholland will be the keynote speaker at the biennial Comic Studies Conference at the University of North Texas. The conference will be 22-23 March, and speakers slots are up for grabs [PDF] if you want to get all academic for an hour or two. If you've never had the opportunity to listen to Milholland speak, he is really, really funny in front of an audience, not to mention thoughtful, engaging, self-deprecating, and willing to use naughty words. If there's a Q&A component (there usually isn't in keynote speeches), get him to do the Fluffmodeus voice.
I got an email over the weekend from Dante Shepherd, telling me about a new project he's dropped a few hints to, here and there. Long story short, a guy who does his comics work primarily in chalk has decided to get all narrative. Professor Blackboard has teamed up with artist Joan Cooke and will in the coming months be launching a strip about hapless grad students dealing with improbably hazardous research. Not hazardous in the make sure you use safety goggles sense, more in the keep the car running and get us out of here quickly and maybe we won't all die horribly sense.

Shepherd doesn't want me to give away the big gag on the first page (which he has shown me, and which is making me giggle as I type this), so let's just say that PhD Unknown (working title) reminds me of something written by Internet Jesus and drawn by Stuart Immonen that you may have read previously and if you haven't what the hell is wrong with you.
_______________
¹ Of course there will be radio in the future; it's the one medium that will never be superseded.
² Follow that link and give Culture Shock 1913 a listen; it's really good.