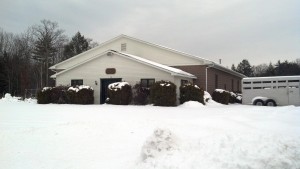 Hoo boy, where to start? Since we spoke last on Friday, the following things have occurred:
In their continuing march to dominate independent artist merchandising, TopatoCo now has its own building, which is being leased from Sheriff Pony LLC¹. As a measure of the growth of TopatoCo, consider this brief history from TopatoCo Vice President of Kicking Ass and Taking Names Holly Rowland:


It may not look like much, but it is a huge deal to us. Ten years ago, TopatoCo was a shelving unit in Jeffrey's bedroom in Oklahoma. Seven years ago, it was a third of an office space. Five years ago, it was one full office space. As of now it is four consecutive spaces, five employees, fifty three clients, a 44" giclee' fine art printer, and a publishing imprint.

We have big plans for 2013. Stay tuned.

In her continuing march to dominate independent artist themed anthology collections, Spike announced the contributors to The Sleep of Reason, a list which includes the likes of Aaron Diaz², Evan Dahm, and Carla Speed McNeil, three creators whose world-building will lend itself towards the creeptacular.

Not convinced? How about KC Green, and Sophie Goldstein, whose work often tends towards the cutely humorous with an underscore of sorrow verging on menace? Not convinced yet? How about the no-brainer of the year, the woman whose work is the definition of atmospheric, existential fear-inducing dread, Emily Carroll? Oh, and 22 other creators/creator teams, including Spike herself. This one is going to rock any sock left tragically unrocked by Smut Peddler.

Ryan Estrada, last mentioned as stretching outside webcomics via the medium of an online gameshow, has announced a launch date for Asking For Trouble: Thursday, 10 January (that would be this week) at 9:00pm EST. I know that the event invite says Japan Standard Time (GMT+9) instead of Eastern Standard Time (GMT-5), but I've confirmed with Estrada that it's EST.
Danielle Corsetto, last mentioned as stretching outside webcomics via two graphic novels she's writing, has announced the first of them as an Adventure Time original graphic novel, to be illustrated by Zack Sterling, entitled Playing With Fire. It'll be the story of Flame Princess's romance with Finn, clock in at 160 pages, and show up in April. Sharp eyed readers may note that Corsetto is working on two graphic novels, but I've confirmed with her that the second is not another AT book; it will be an original story for another publisher.
Returning from hiatus: Jim Zub and Shun Hong Chan's Makeshift Miracle, moving on to what will form the second volume of the rewritten series. Less a return and more a new-material launch: Dave Roman's Astronaut Academy will shortly have a second volume, and it's serializing courtesy of publisher :01 Books. And because Roman loves you, Astronaut Academy: Re-Entry already has 25 pages of story ready for your enjoyment.
The definitive numbers for Child's Play 2012 came out on Friday, and the result is staggering: more than five million dollars were raised last year, eclipsing the prior year's record by nearly 50%. For reference, the Child's Play history looks like this (all figures in US dollars):


2003: $250,000
2004: $310,000
2005: $605,000
2006: $1,024,000
2007: $1,300,000
2008: $1,434,377
2009: $1,780,870
2010: $2,294,317
2011: $3,512,345
2012: $5,085,761
To date: $17,596,670

Not a bad first decade all at all.

Finally, sneaking in just before press time, Bernie Hou announced on Twitter that Comic Chameleon (last mentioned three weeks back) is opening its submission process so that more creators can get in on the webcomics reading app that doesn't screw them over. Looks like launch on CC is getting close.
_______________
¹ Sheriff Pony LLC exists as a distinct entity from The Topato Corporation for reasons of Business.
² The Tolkien Scholar Par Excellence.