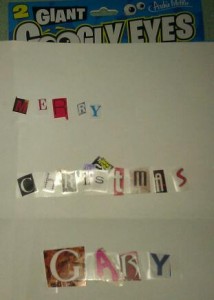 She finally did it. There are googly eyes staring at me as I write this. Send help.
Things to keep an eye (so to speak) out for:
Well done, ghost of Ryan North, you're officially the most-funded publishing project in Kickstarter history, more than doubling the second-place contender. Also, what was up with raising more than US$101,000 in the last full day of the campaign? That is nuts and the people that support you, we they are nuts.
Want to drive yourself crazy? Check out the 19 page preview of Cameron Stewart's next project, NIRO. Crazy, because now you need to see the rest of the story, and Stewart hasn't released it yet, ha ha ha¹. 180 degrees removed from the psychological drama of Sin Titulo, NIRO appears to mix some apocalyptic setting here, some unspeakable danger there, and a loner with a moral/religious code trying to do the right thing right about … h'yahhh. NIRO will release as choose-your-price (99 cents or more) digital issues starting early next year, culminating in a print collection.
Erika Moen has been doing a public service behind the scenes for a good while now, studying to become more knowledgeable about how human sexuality works than anybody this side of the Kinsey Institute for the purposes of putting together a graphic novel that's an educational resource for teens. It's slow work, though, and she's dying to share helpful information with the reading public before 2015. What to do?


I'm thinking I'll start up a smaller comic to run in the mean time. I'm thinking a sex toy review comic. WOULD YOU READ THAT?

I am asking everybody reading this now to contact Moen (her Twitterpage should suffice) to say Yes, please, let us see this comic of yours as often as you can produce it!
Several subsets of Alliday will be dropping in the next week or so — whichever things you might celebrate or find comfort in, enjoy the heck out of 'em. We at Fleen will do our best to scrape up news in the coming days, but it may be kind of scarce on the ground.
_______________
¹ If I get driven crazy from the cliffhanger, you're all coming with me.