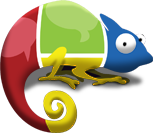 Some of you may have noticed a brouhaha in the web-o-spheres over the past day or two regarding another webcomic scraper by another person that couldn't be bothered to ask permission from creators before lecturing them how copyright works (his version: I can do what I want because I want to). I didn't mention it earlier on account of the takedown requests were flying fast and furious and he was at least removing strips from his site (albeit with a lot of whining, as I understand it). Less attention given, the better.
Which is why I do want to mention a webcomic reader (an app this time, for iDevices) that's Doing It Right. Comic Chameleon is the brainchild of Bernie Hou, creator of Alien Loves Predator, so he knows what a creator wants from an app. He's contacted other creators and asked permission up front to include their work. Instead of being a glorified browser or RSS reader, the app permits panel-by-panel reading, so there's actually a functionality value-add there.
Best of all, he's worked out a revenue-distribution plan so that ads within CC itself end up paying the creators (granted, probably not a lot of money, and divided a bunch of ways, but still — it's a choice that indicates the app is for their benefit, not his). Look for Comic Chameleon in early 2013, and check out the demo on YouTube.
There was a very nice comment in yesterday's posting by a fellow named David Welsh; as is my practice when I see a poster I'm not familiar with, I followed the link to Welsh's site and found … okay, let me back up for a moment. Something you should know about me is that I cannot even think of certain scenes in stories without getting choked up; any time, any place, they will get to me without fail. Mayday, mayday, India-Golf-Niner-Niner is buddy spiked; It shames the armored cavalry to abandon a courageous warrior. Our squad wishes to ride in support of Princess Nausicaä; Let's make sure history never forgets the name 'Enterprise'; Su per man.

At the top of that list, the top of the top, will always be stories (sometimes just scenes, but more often the entirety of the story) of extreme loyal dogs. I will seriously use this single issue to judge your entire worth as a person; there is something wrong with you, like sociopath wrong, if you can think about Seymour or Hachiko¹ without being moved to your very core.

Which is a roundabout way of saying, when I followed Welsh's link, it went to a new (fewer than ten updates) webcomic that he writes, the topic of which is the original loyal-beyond-death dog, Greyfriars Bobby. And just for topping on the heart-tugging, this version of Greyfriars Bobby returns to his master's grave every night not just to guard it, but to fight supernatural beasties that would threaten all of Edinburgh. Extraordinarily loyal and brave? I'm not made of stone, people — I am in, all the way in.

I should also mention that art, by Junelle Faye, treads the line between cute and threatening nicely, and hopefully both Welsh and Faye will be able to crank out more strips on a regular basis. Check out Greyfriars, and let the sniffles begin.

Received at the comic store yesterday: the 300+ page Dr McNinja: Timefist and the concluding issue of Marceline. Two thumbs up for each of them, which requires me to borrow a couple of thumbs.
Received in the mail when I got home yesterday: Benign Kingdom, Fall 2012, hardcover edition, plus additional goodies. I cannot begin to tell you how gorgeous this book is, and as soon as Danielle, Emmy, Anthony, or Aaron² can point you in the direction of sales, buy it. I suppose you could get the individual art books, but you don't look like a chump, so get the very handsome hardcover to go with the Spring 2012 edition.
Expected in the mail any day now, like tomorrow, because I got an email from TopatoCo: Tiny Kitten Teeth. Hell, yes.
Not expected in the mail anytime soon because of time-sink potential: Either of the Homestuck collections, although I do not know what my deal is on delaying. I should just take the week between Christmas and New Years and binge my way through all 6000+ pages just like the mother of two who is powering her way through and has made it as far as the Midnight Crew intermission.
_______________
¹ Don't even get me started on service dogs like Endal or Comet.
² The Latin Hobbit-Throb.