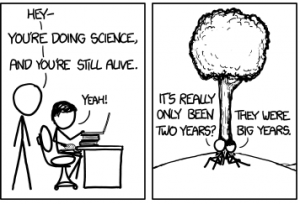 But before the Ryanness begins, a quick thought for a friend: Happy Two Yeariversary, Ro.¹
So! Ryans! Ryan North, that is, as the Kickstarter for TBONTB:ACFABRNAAWST has cleared US$200,000 (or 1000% of goal) and thus will have a live-action, internet-path-choosing stage adaptation in Busan, Korea, courtesy of Ryan Estrada:
To Be Or Not To Be: The Play Of The Book Of The Play. Shakespeare in Busan is going to transforming this book into a stage performance in South Korea as an incredible improvised play. AND since people all over the world are supporting this project, the performance will be livestreamed worldwide, and when a choice comes up, the entire internet will be able to vote. The play will be directed by webcartoonist and Machine of Death author Ryan Estrada. He feels sorry for his poor stage manager who has to have sets and props ready for thousand of scenes that you might not even choose, but HE KNEW THE RISKS.

Is it insane? ARE WE ALL LITERALLY INSANE?? It is impossible to tell.
Piling on top of that good news, The AV Club loved the heck out of North's Adventure Time #10 (the choosable-path issue, coincidence!?) and also Meredith Gran's Marceline and the Scream Queens. Meredith is, the last time I checked, not a Ryan, but reciprocally neither is Ryan a Meredith. They're all doing terrific work, though, and that's a cheering thought to take with you to the weekend. See you on Monday.
_______________
¹ Although what's with all the RTL text on the archive page, Randall? Jeeze.