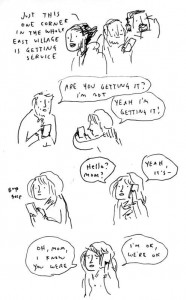 I have a feeling it's going to be a quiet week in webcomics, what with a fair number of the New York/New Jersey contingent either still affected, or out helping others. Case in point: Meredith Gran, in a bit less than a day, managed to raise more than US$550 for the rehabilitation of Prospect Park, and the twitterfeeds of lots of creator types reveal they've pretty much immediately moved from the Hooray, power's back! stage to the Let's help those still without stage. Lots of people helping to clean out inundated houses, deliver food and supplies, and generally try to make life easier for those that got hit hardest. Bravo.
The stories of what happened during Superstorm Sandy will not be compiled in full for some time, but for me the main reference point for personal experiences (maybe even more than my own, as I came through pretty easily) will likely be the diary-type sketches that Kate Beaton did. If you want to know what the aftermath was like, in all its dramas (small and great), frustrations, moments of clarity and charity, click on the very tall strip and take a journey to the Village, early last week.
In less storm-related matters, Christopher Baldwin hit a round number over at Spacetrawler today — 300, to be precise — with a little good old fashioned mayhem, Aussie-style. Spacetrawler's various players and plot threads are careening ahead with no break in pace, and I've a feeling the big blowup and tragedy we know is coming (remember, the story started with Nogg informing Martina's dad of her death). It's a neat trick, letting everybody know how the story ends before you even start, but still making the ride all exciting-like.