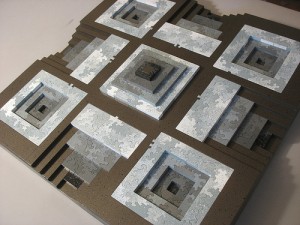 Now that Apple isn't making everybody sit in front of their computers and hit compulsively refresh their browsers every ten seconds, maybe we can talk about some webcomics things?
Yesterday saw the debut of a very impressive Big Round Number:


It only took 8 1/2 years, but I've finally created 2000 puzzles!! http://www.flickr.com/photos/30135689@N05/7980598350/

Let's do the math to properly indicate just how busy Chris Yates has been: eight and a half years and 2000 Baffler!s comes to 1.55 Baffler!s per day, and while some of them are pretty simple, that doesn't preclude monsters like ol' 2K here, with its more than 550 pieces spread out across nine fields and eight layers.

In that time Yates was also making ghosts and POOP signs¹ and SLÜGs and t-shirts and prints and the designs for mass-market Baffler!s and the iPad Baffler! app and a few zillion Baffler! commissions not to mention a whole mess of terribly excited photocomics.

For those interested in seeing exactly how damn much art one can cram into 3105 days, there's a photo archive for your perusal. If you should see Mr Yates this weekend at SPX, tell him I said hi, be sure to smile for any photos you end up in, and ask him when the hell he sleeps.

Know who else is gonna be at SPX? Well, a whole damn lot of people, but for the moment I'm thinking about Becky and Frank, who will but a week later make their way back LA-wards for a book launch at the world-famous Secret Headquarters. Tiny Kitten Teeth's print version has been a long time a-bornin' but now it's here and it's going to be gorgeous and you can get in on the fun of the launch at 3817 W Sunset Blvd (also known as Historic Route 66) in Los Angeles at 7:00pm on Friday, 21 September. Books, prints, fun times, and sophisticated adult beverages will be present in copious amounts.
Speaking of book launches, (in this case, literally so), I believe it is a matter of public record that this page is fully in the tank as far as Sailor Twain goes, as it is beautiful, and melancholy, and atmospheric in a way that few comics manage. It's still a few weeks before the very handsome and substantial print collection drops, which makes this the perfect time to note that there will be a special to-do to mark the launch of the book.

Even more exciting, this celebration will be taking the form of a sunset sailing trip aboard the Clearwater, a replica of the mighty Hudson River sloops of the 18th and 19th centuries. A sloop that was dreamt up, built, and launched by the legendary Pete Seeger² to act as a literal platform to remind people of the need for clean waters in general, and the Hudson River in particular.

The Sailor Twain Sail departs from the 79th Street Boat Basin in Manhattan at 5:30pm on Friday, 5 October.

New site, tangentially related to webcomics in that David "It's!" Willis did the logo, and also because it's the brainchild of webcomics friend Josh "The Comics Curmudgeon" Fruhlinger. Hail to the Slash [Not Safe For Anything] is devoted to … well, let's just quote Josh on this one:


2012 has been one of the most homoerotic presidential elections since JFK completely discombobulated DIck Nixon with his sexual charisma live on television. This site is a repository of the same-sex presidential fan fiction our nation needs right now.

Also:

[I]n the days leading up to the 2008 U.S. presidential election, this civility broke down as a number of nasty political fights broke out. In attempt to stave off further unpleasantness, I demanded that my readers funnel their political passions into Taft/Roosevelt slash fiction, because it was the only thing I could think of off the top of my head.

This worked better than I could have ever imagined, both in terms of stopping arguments and in producing legitimate masterpieces of Taft/Roosevelt erotica. I always had in mind that, come 2012, I would return to the idea. This site is that return.

In case you still have some shred of innocence in your soul and are casually wondering if Mr Fruhlinger could really put together something truly depraved and soul-searing, consider this description of the very first entry at HttS:

Heart and Soul (Cheney/Bush/Cloned Cheney/Crown Prince Abdullah; WARNING: EXTREME HORROR)

Cloned Cheney. I'm warning you, there isn't enough bleach in the world to get that image out of your brain. So tread carefully and if y'all will excuse me, I'll be over here with the jumbo bottle of bleach and the cleansing fire.
_______________
¹ It will remain one of my life's most cherished memories will be the time I watched Lynn Freakin' Johnston try to convince a complete stranger to buy a POOP sign. The only thing needed to make that day perfect would have been for that stranger to be wearing some form of "Roadside" clothing.
² One of America's great social consciences, a musician of incredible importance (largely responsible for the preservation of folk music and the modern development of the banjo), hell-raising for all the right reasons still in this, his 93rd year.