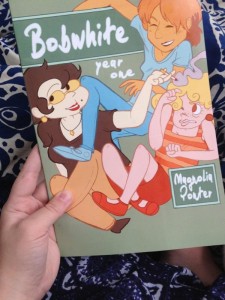 With the rough cut done and the fine cut approaching, Freddave Kellett-Schroeder are, in mere hours, conducting what I believe is the first test screening of Stripped in LA, at something called "The Marina", which I presume means something to Angelenos. Guys, I can't tell you how much work has gone into this film (the last post about the making-of aspects to run on this page was just about one year ago exactly, at which time they had put in more than two years of work), and how much of a splash it's going to make in the world of [web]comics. Let's all think good thoughts in the direction of SoCal, oh, let's say an hour from now. If nothing else, the Dave half of Freddave has a new little one at home and I'm sure he hasn't slept more than an hour a night since San Diego Comic Con six weeks ago.
Thing to look forward to #1: We at Fleen have spoken with Magnolia Porter at numerous points since Bobwhite wrapped, and it appears that a collection is finally on its way. Don't get us wrong — Monster Pulse Porter's best work yet, and The Good Crook was full of charms¹, but Bobwhite was the first time she really made us sit up and take notice. For you lucky attendees of SPX in three weeks, Porter will have a limited run of Bobwhite: Year One while she completes work on the comprehensive single-volume collection.
Thing to look forward to #2: In actual fact, I don't usually discover stuff that I'm super-interested in Kickstarter's emails with their featured projects², but every once in a while, there's a damn good one. And as luck would have it, this one is five times over goal after four days (in a thirty day campaign), so it also comes under the heading of "sure thing" for those of you that don't appreciate the "will they make goal or not?" aspect of KS. Specifically, there's a customized notebook for comic-making, which combines a class moleskine-style sketchbook with a series of comic references and how-tos.

I DRAW COMICS is proudly stamped on the cover, and boy, will you ever with one of these in hand. My only disclaimer is that from the (admittedly few) sample pages shown on the KS page, it appears to draw a focus on superhero-type comics, which is understandable given that one of the project coordinators is an artist at Marvel. To the extent that body proportions are solely skewed towards the capes crowd³, it may not help every aspiring comics creator, as so many interesting comics don't follow the stylistic conventions of the DC/Marvel Wednesday pull-list.

But I have a hard time believing that even a sketchbook entirely serving the aesthetics of superhero comics would be entirely worthless to non-superhero creators; heck, I may even grab one myself, and I can't draw much more than stick figures — and not even good enough stick figures that Randall Munroe needs to worry about competition.
_______________
¹ Not to mention the fact that you could see Porter develop as an artist and storyteller as it developed, and my goodness has it been nearly five years since it launched? Yes, it has.
² Which is not to say that projects I'm interested in don't get featured — it's just I know about them before the email shows up.
³ And I trust that they have the good sense to not include Strong Female Characters-type bodily examples.