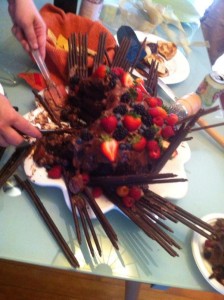 Not saying they're completely out of the blue, but still.
Very much a Huh moment: I'm not entirely sure what the read-between-the-lines part of the announcement means, but I'm pretty sure the Museum of Comic and Cartoon Art just said it's ceasing to exist:


The Museum of Comic and Cartoon Art (MoCCA) and the Society of Illustrators have announced plans for MoCCA to transfer its assets to the Society, creating a single cultural institution supporting and celebrating illustration, comics, and animation.

The Society will continue and expand MoCCA's mission in a number of ways: staging MoCCA Fest in its current location, dedicating a gallery in the Society building to MoCCA's Permanent Collection, continuing MoCCA programming, and curating a special exhibition of works from MoCCA's Permanent Collection in their Hall of Fame Gallery […]. There will be extensive arts programming around both of these exhibits, including lectures, workshops, film and music series. Current MoCCA memberships will be honored at the Society of Illustrators.

So, that's something more than a de-accession of artifacts, or construction of an institution-within-an-institution. Does somebody with access to legal filings know where to look for a corporate dissolution? Because that's what this sounds like:

Commenting on the transfer of MoCCA's assets, including its permanent art collection and the MoCCA Fest name, Society Executive Director Anelle Miller observed, "The Society of Illustrators has a long, proud history of promoting the art and appreciation of all genres of illustration. We are honored to be able to spearhead the expansion and growth of the incredible foundation that MoCCA has created over the past ten years."

More on this as it develops.

Maybe not so much Huh as Hmmm: As of this moment, an artboook anthology is on the verge of becoming the third most-funded comics project in Kickstarter history, which position it will hold for approximately a week until Penny Arcade takes the number two slot, and then another week or so before CreatureBox takes number four.

Still, Top Five status is nothing to sneeze at, and taking two separate projects into the Top Twenty in the space of six months (with a combined take somewhere northward of US$165,000) makes George Rohac the Kickstarter Guru of 2012, I'm thinking.

Less Huh and more Hooray: Congratulations to Emily Nagoksi and Rich Stevens, who totally changed their respective Facebook relationship statuses, with cake. I can't express how happy I am for them. And dang is that an impressive cake.