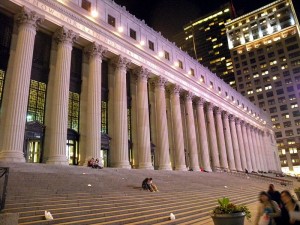 Hey. Still alive, not entirely thrilled by that fact, but it's awesome to be back with my wife and dog. Let's wrap up San Diego for the year, yeah?
I started going through my semi-transcription notes for the Kickstarter panel, and I don't think I'm going to do a full write-up; this is not a reflection on the panel, but really more on the audience, and the disconnect between them.

Jimmy Palmiotti and Batton Lash are doing Kickstarters right (having 95% of the work done before asking for money, plowing extra money back into the product to give the donors maximum value for their support, finishing fulfillment on one campaign before considering starting the next); Vijaya Iyer stressed the need to treat Kickstarter the same as any other source of funding (SBA loan, angel capital) and have a business plan in place before trying to secure funding; Cindy Au, Director of Community for Kickstarter, brought valuable stats to the table.

But the audience, the questions, predominately focused in on the checklist approach: Tell me exactly what steps I need to follow to be successful like you. There wasn't a recognition that there is no single recipe for success, that campaigns have to be tailored to your existing audience and existing work, that Kickstarter is not a magical money machine that will fund your dreams.

Jimmy¹ tried to repeatedly make the point that Kickstarter is merely an enabling mechanism, that it won't make the comic happen, that you have to make it, that your reputation is what will bring people to the campaign, and it's your good name that is on the line for making good on what you promised, that none of this is risk-free, but I never got the feeling that those essential truths were getting absorbed.

Then again, I shouldn't have been surprised — when Jimmy took the measure of the crowd, about 95% of the approximately 150 people in the room indicated that they want to do a Kickstarter campaign, and exactly three (3) indicated that they already had done so. Bless 'em, those creators with stars in their eyes, what they heard was:

Blah blah funded successfully. Blah blah blah $US7 million to comics projects over the lifespan of Kickstarter. Blah blah blah Ginger. Blah blah Rich Burlew got US$1.2million blah blah². Blah blah most popular pledge is US$25, the average dollar amount is US$75, and the average project looks to raise US$6-10,000, so about 80 people can get you to success. Blah blah blah, staff picks.

So there you go — 400+ words on how I'm not going to talk about a panel. I need help.
The people you don't talk to at Comic Con were pretty interesting.
I always drop by the First Aid room each year multiple times to offer props to the medics on con duty; I have in the past seen them wheel somebody in the midst of an atypical cardiac rhythm from the floor, and am constantly amazed that they don't deal with more serious emergencies on a daily basis. Like emergency medical personnel anywhere, their shifts are a combination of bad coffee, lots of waiting around, and endless paperwork for the most minor of boo-boos, mixed with a fervent hope that something, anything will happen, tinged with an event more fervent hope that it doesn't involve the longboard or the LifePak.
The door wardens were polite, reserved, and — as one confided in me — not supposed to talk to the press. I did have a great exchange with one on Sunday afternoon when he put out a hand to stop me and exclaimed:


Dude, that is a righteous moustache.

Swear to dog, that happened. I asked him how old he was and he said 18; then I got to tell him that when he was born, my moustache was already eight years old.

The cops that try to run crowds across Harbor Drive can't stop what they're doing to talk, but in five second snippets while passing by, I found them to be uniformly serious about keeping everybody alive, but a brief, How you doing today? always got a smile and cheerful response. I'm sure that they are the only people that want to see the Harbor Drive side of the convention center redesigned to move people on foot safely more than I do³.
The costumed booth ambassadrixes that I spoke to were uniformly friend-of (or friend-of-a-friend-of) creators or somebody associated with the booths they were working. I'm sure that somewhere there were clusters of young ladies in hazardous shoes and (not much) matching clothing handing out flyers that were obtained via some kind of agency, but for the most part there was a personal connection to whichever comic, publisher, or media wanted to utilize the "booth babe" strategy. They also seemed glad to have an eye-to-eye conversation that didn't end in a request for photos.
I heard from three different restaurant serving staffers at three different places that Comic Con is when the Gaslamp crowd is "extra normal". Apparently, the usual denizens of the entertainment district are club kids, scenesters, and self-proclaimed beautiful people, but when you peel back the battle armor from a booth full of Klingons, they're mostly low-maintenance and not interested in provoking drama like they're trying out for a reality show. I had expected the non-stop super-rush and crowds and chaos and trying to put together a table for 17 would put front-of-house staff off of Con Week, but they honestly seemed to enjoy it.
________________
¹ Although it is blog policy to refer to persons by their last names on second reference (with occasional forays into given names for contrast), the dude is just a "Jimmy" through and through. It would be physically impossible to refer to him as "Mister" under any circumstances
² Those two blahs were mentally translated as That means I'm a shoo-in to succeed because I'm not drawing stick figures, and completely skipped the second half of Au's sentence, … and that was entirely because of the community he'd built up.
³ Okay, this would be hella expensive, but tell me this wouldn't work:
Drop the roadway, trolley, and train tracks underground for the entirely length of the convention center, like a reverse viaduct. To keep the grade reasonable, you'll probably have the start the descent a good 500 meters from either end, so I'm not saying it's going to be easy.
Get rid of the chokepoint steps down from the elevated roadway that the shuttle buses use, and make the entire frontage of the convention center steps leading down to the former grade of Harbor Drive, which …
Is now an open plaza clear over to the Gaslamp. You could drain the entire building over the plaza and into the Gaslamp in about two minutes, completely avoiding the knots of people on the elevated roadway, backed up on the steps, in the crosswalks, and channeled in a too-tight bolus to the roadways by the Gaslamp arch.