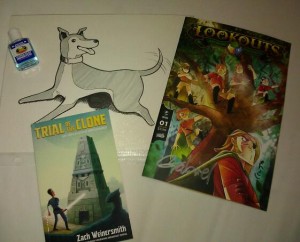 Thursday is always an odd day at SDCC; more people certainly than the frantic few hours of Preview Night, but lots of people still have work and those that are there tend to be four-day attendees who are still deciding about their purchases. The con almost feels like it's holding its breath.
The sign on the TopatoCo is poignant in its simplicity:
Andrew Hussie will return NOON-ish.
The Tumblr of trolls had swarmed the booth for Thursday's signing, requiring show personnel to wrangle the line down the main longitudinal corridor, at times as far as the 1000 aisle. By all reports, they did a good job of not letting the line obstruct the aisles, allowing three people at a time up to the booth, and feeding up the line across the footpaths three at a time. Speaking near the close of the show, TopatoCo President and Chief Executive For Life Jeffrey Rowland expressed hope that the showrunners would make space for Hussie's next signing in the autograph area, where large lines are more easily handled.
For a lot of people (myself included), it's not clear exactly what emotional core Hussie has tapped into in his fans, but he's clearly found something that they've adopted as their own with a ferocity that defied description. Were he to declare himself divine and demand they form an army of conquest, Hussie's enemies would be driven before him, and by nightfall he would hear de lamentations of dere weymmin. Pray that he only ever uses his powers for good.
Thursday purchases: Lookouts #1, commission inked drawing of my dog from Mary Cagle, given a copy of Trial of the Clone (which put me through entertaining heartbreak and frustration while casually reading it, THANKS OBAMA WEINERSMITH). Also: the single greatest item ever introduced at Comic-con.
In the panel rooms today: Kate Beaton spotlight panel at 1:30; Adventure Time panel, including Meredith Gran at 2:00; the Guigar, Khoo, and Kurtz show at 5:00; Stripped panel with special revelation and clip screening at 7:00.