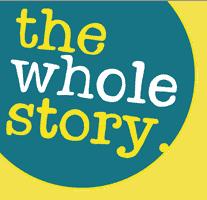 I got other stuff for you today.
Scoop! Fleen can reveal exclusively exactly what it is that Ryan Estrada (and a passel of co-conspirators) have been working on. Launching Monday, 2 July, all of the projects that he's teased (and more!) will be available as a digital comics equivalent of the famed Humble Indie Bundle.

The Whole Story will feature as many as seven full e-books, a combo platter of new and established creators, combining both new and previously-seen work. Three books await you for free, with the remaining four available at various purchase tiers, adding up to a total of nearly 500 MB of comics. We'll give the launch address on Monday, and remember: you'll only have about three weeks to grab what you can. They're in Retina resolution, and in case you were wondering — Estrada's dropping hints that this will be an ongoing publication channel, so look for more bundles in the future.

Next up: updates to where to find everybody at SDCC; Zach Weinersmith will be hanging with Unshelved (booth 2300), Bill Holbrook and John Lotshaw will be with Moonbase Press (table L-02); Weregeek and Little Vampires are tabling together (booth 1831), and Keenspot are indeed double-boothing.
Next, if you're in Philadelphia this weekend, you can watch webcomics own Brad Guigar¹ perform stand-up on Saturday night. Fun starts at 3:30pm.
Shaenon Garrity² has launched a new webcomic where she recaps one X-Files episode per week and the first one is magic. I shouldn't be surprised, since Shaenon + recap = comedy gold, but there is a very deep downside to this new endeavour: if she keeps to a one-a-week schedule and does them in order, it will be early July 2013 before she gets to Clyde Bruckman's Final Repose and September of the same year before she reaches Jose Chung's "From Outer Space". This is tragic.
_______________
¹ He's dreamy.
² Tiki Queen of the Greater Bay Area and Nexus of All Webcomics Realities, non-Ryan North Division.