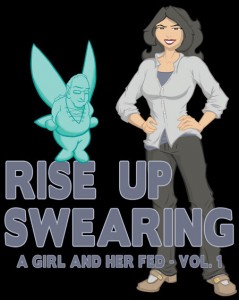 Yeah, still working on my latest Kickstarter thing; there's 38 separate projects I'm including in this one, so it's taking a while. So let me point you at some brief items of interest.
Firstly, I want to show two ways you can purchase the first collection¹ of A Girl And Her Fed (by K. Brooke "Otter" Spangler) in PDF form: 1, 2. One may note that both copies of Rise Up Swearing contain the full content of the print book, minus the bonus art on the get-Otter-to-sketch-this-page page, because hey, no pages. They are in all ways identical, except for the price.

One of these versions is identified as To Own (for US$5.00), and one as To Give To A Friend (for US$2.50). Naturally, there's no way for Otter to tell whether the copy is for you or for somebody else, you're on the honor system here. I actually think this is a great way to get an established member of your audience to help spread the world-of-mouth to people that may like a comic, by making it easier for them to do so. It's a PDF, so the production costs are already sunk from the print version; getting half the usual price is better than none, when pretty much by definition it's going to somebody that never would have bought it in first place due to not knowing about it; in the case that new somebody likes it, they may well become a paying customer in the future. I'd be surprised if I didn't see this model adopted by other creators.

Attention, residents of Pittsburgh, Pennsylvania and surrounding areas: Andy Runton² is coming to see you next week. On Saturday, 16 June, Runton will be at the ToonSeum³ at 1:00pm for a demonstration and signing. No special charge for the event, but there is the regular admission fee to the ToonSeum which is only five bucks if you're 13 or older and one single dollar for children 6 and over. That's as good as free, and Andy captivates kids as well as anybody this side of Patrick McDonnell. Grab yer kid, grab yer Owly books, and go meet a humble, talented guy who will most definitely put a smile on your face.
Attention, residents of Boulder, Colorado and surrounding areas: Chris Yates isn't coming to see you, on account of he lives there. But he will be dropping by FACTORY|Made creative lab/design incubator to teach a workshop of wooden puzzle making. The fun starts on Sunday, 17 June from 12:00 noon to 6:00pm; tools and materials provided, just bring your imagination and a willingness to get all swoopy and curvy with a scroll-saw. I imagine room will be limited so that participants aren't sitting around all afternoon waiting for their turn, so advanced registration is recommended; call FACTORY|Made at 303 927 0802 and please note the US$60 registration fee. If you're uncertain as to whether or not Yates makes stuff that's up your alley, check out his work here (where, I hear through the grapevine, he's having a sale).
_______________
¹ Disclaimer: I wrote the foreword for this book, but I don't get anything out of pimping it here, other than a sense of satisfaction that a work I really like might find another reader or two.
² Who, yeah, technically doesn't do a webcomic but Owly is great and it's in the spirit of independent owners and it's my blog so shut up.
³ Who, yeah, aren't devoted to webcomics either, but they do a lot of good exhibits and events and they got the funk.