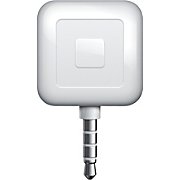 Know something? You've gotten like 3500 words out of me since Sunday and I'm tired. Let's keep this one brief for all of our sakes.
Seen online:


last starslip drawn on may 30, 2012, 5:53pm, at abbot's habit, venice, ca

We won't see if for some weeks, of course, but I can't help feeling both a little happy and sad for Kris Straub. It's been seven years, three titles (if memory serves) and one big ol' reboot since Starslip (as she is now) started; saying goodbye to your creation can't be easy, but wrapping up the story on your terms, tying up all the loose ends … that's got to feel great. Thanks very much to Mr Straub for letting us take the ride along with him.

Seen in person: the Square reader has been a badge of office for people that are making your purchase options broader and easier at conventions. Waiting to get approved and receive that dongle in the mail has been a ritual for more than one webcomicker. So what does it say about ubiquity that I saw one hanging on the pegs at Staples for ten bucks yesterday?