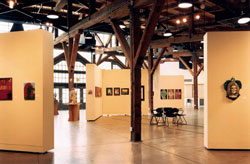 Those of you on the Pacific end of North America — at least those in the temperate rainforest zone¹ — might consider dropping into the inaugural Vancouver Comic Arts Festival next weekend in the lovely Yaletown section of Vancouver, BC. More specifically, here: 181 Roundhouse Mews (which between you and me sounds like a random collection of words and not an actual address), from 10:00am-5:00pm on Saturday and 10:00am-6:00pm on Sunday. I'd be there except I'll be in Las Vegas. Dang.
Let's congratulate VanCAF on doing a few things right, shall we?
The date, times, and location are right at the top of every single page of the website.
The actual convention-convention is just the culmination of a series of readings, panels, and workshops featuring local cartoonists, with a goal of involving the entire city.
In keeping with the community involvement/outreach/integration mission, it's free to attend, and exhibitors are being charged what I would call an entirely nominal rate of $75 (Canadian, naturally).
They've got an impressive lineup of guests, including the Van-local Cloudscape Collective, Joey & Emily, Camilla D'Errico, Doc Hastings, the Jeph 'n' Sam blood feud, and David Malki ! (this week, the ! stands for Aaaahhhh, I'm covered in poison ivy!).
If that weren't enough to entice you, a whole stack of web/indy creators have been intrigued enough to count themselves as exhibitors, including (but not limited to) Ed Brisson, Barry Deutsch, Becky and Frank², Tyson Hesse, Steve LeCouillard, Jenn Manley Lee, Dylan Meconis, Angela Melick, Emily Partridge, Ryan Pequin, Doug Savage, Katie and Steve Shanahan, and Anise Shaw. And those were just the names that I recognized on a fast scan.
At last check, VanCAF may still have been a few volunteers shy of optimal staffing, so cut them a little slack if there's an occasional hiccup — it is a first-time show, and hot on the heels of several established festivals; with a bit of careful nurturing, it could become the Pacific Northwest equivalent to TCAF. In any event, drop by, tell your favorite creator I said hi³, and let us know how it went. Given the talent on deck, I have a feeling the answer to that will be Pretty awesome, Gary. Pretty awesome.
_______________
¹ As opposed to the desert zone, the winemaking zone, the glacier zone, or the murderous drug cartel zone.
² And oh boy, are Becky and Frank working on some amazingly cool stuff right now, which can hopefully be shared in the coming months.
³ If that favorite creator is Angela Melick, throw her a snappy right-hand rule salute.