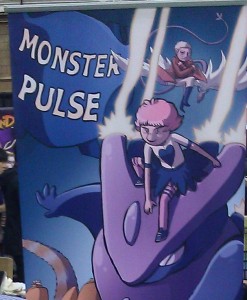 Time prevented me from talking with other creators extensively, but even brief conversations are fun.
For example, Box Brown's been working much of the past six months on Retrofit Comics, which is now down to a familiar process. The back catalog is pretty much sold out, and the project will run its course as planned; Brown may or may not keep the "Retrofit Comics" name for future projects.

The project most consuming his time would be his comics biography of André Roussimoff, professional giant and haver of posses. Brown has gone so far as to communicate with Mr The Giant's brother¹, and expects to work the rest of the year on what may well be the definitive biography of André. Oh, yes, and he's also doing webcomics again, you know, in his free time.

Magnolia Porter, meanwhile, is splitting her time, with the first project being the ongoing Monster Pulse, which mixes a quirky visual style with lots of heart². Speaking of visual style, I finally figured up what it is that makes Guuzy so appealing, despite that fact that he may be the most dangerous of the monsters, what with being an acid-filled stomach monster and all. It's the way that his forelegs are so much shorter than his hindlegs, giving him the same posture as a dog that's got a tail wagging high and a head down low and eyes that say Play, play, play time to play!

That same instinct for creating appeal in non-human characters carries over to the human characters as well; Bina and the other players we've met all act like whole, real people; their anger, their exhaustion, their bewilderment and denial all come from an organic place and make you want to know them more.

It's something that Porter has had a lot of practice with, what with years of Bobwhite under her belt — Marlene, Ivy, and Cleo lived and breathed and influenced each other, and shortly their story will be collected into print. That would be the other thing that Porter is working on, and I can only believe that Bobwhite will read beautifully as a continuous story. Personally, I'm holding out for a bonus story that reveals more of the main cast's feelings for Ben Bailey.

Shifting gears for a moment, all those books will surely require some Kickstarting, which put me in mind of a conversation that took place on the Armory steps. It started with some catching-up with Rick Marshall³, and we were by chance joined by a passing Johanna Draper Carlson and Heidi MacDonald. Kickstarter discussion about sweet spots, Smut Peddler's ultimate total (I'm putting it in the range of US$55-60K), and Shaenon Garrity's clever use of unlocked rewards on the Skin Horse 3 campaign.

I tried laying out some of my (very early) analysis and desire for a Grand Unified Theory of Kickstarter, but so far my attention has been on the numbers and not the words to describe it. I should have just waited a few days more and I could have pointed them towards yesterday's Penny Arcade, because (as usual) Jerry's words do the trick:

You've seen Stretch Goals before, if you've ever watched one of these things succeed: mechanisms to maintain funding momentum after success, with whispered promises of more…. Goodies you can add a la carte, independent of your pledge level. They've essentially developed an RPG, where your money is the XP. [emphasis added]

There it is, maybe the key element I've been grasping for. Kickstarter reward design isn't just a min-max problem for the creator, it's one for the supporter as well. We've established that you need an audience that's crying out for whatever you're offering, and you have to give them a compelling reason to back you. Those things are still true.

But now, shift the perspective: instead of trying to manage the money you take in, you should be setting up a structure where your backers will seek on their own to maximize the money they can possibly contribute. There's a weird mixture of industrial-grade psychology and probability math at the heart of it, which is to say — it's a game. Don't try to play it yourself, try to make the most appealing set of rules.
_______________
¹ Or at least attempt to; a letter has been written to an address in France that reportedly once belonged to the surviving Mr Roussimoff. He hopes for a reply, but acknowledges the odds are long.
² I'm so, so sorry.
³ Will, and Holly.