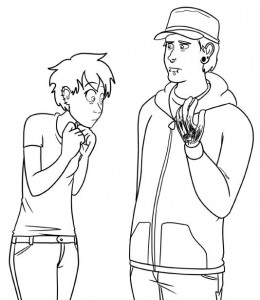 So the Eisner nominees got announced the other day, and I was pleasantly surprised to see some of the work that was recognized, along with unpleasantly surprised to see some of what was omitted. In other words, a completely typical year. Let's start with the nominees for Best Digital Comic, which we will recall are:
[O]pen to any new, professionally produced long-form original comics work posted online in 2011. Webcomics must have a unique domain name or be part of a larger comics community to be considered. The work must be online-exclusive for a significant period prior to being collected in print form.
That would be represented this year by:
They are, respectively, a piece of comics journalism (16 pages), a serialized fantasy story (ongoing), a serialized adventure story (wrapped at 118 pages, second story forthcoming), a fairy tale from the POV of the participants (22 pages), and a macabre story reminiscent of Momotaro (5 infinite canvas installments, equivalent to approximately 100 pages). Bahrain is the only one new to me.
The nominees provide a nice glimpse into both the the strength and the weakness of the category — there's an incredible variety of work, but it's just as hard to decide what the requirement of "long-form" means. Serialized ongoing story? Check. Done-in-one? Check. Seemingly anything that's not a continuity-light gag strip or single panels would qualify, but there's still a conceptual difficulty in seeing works that are five to ten times longer than others in the same category. Still, if I have my questions about things that might have been nominated (top of my list: anything Emily Carroll did in 2011), it's entirely down to preference; there's nothing on this slate to be embarrassed about.
Speaking of missing, I understand that the nominations are mostly drawn from submissions sent in by the creators themselves (or their publishers), but I'm wondering about some things that were left out. While the submission policies don't explicitly say that the judges can include overlooked works that weren't submitted, I have to believe that such discretion wouldn't be frowned upon either¹. All this to say, no nomination for Hark! A Vagrant for either Best Humor Publication or Best Graphic Album — Reprint? Kate Beaton was everywhere in 2011 (and deservedly so), inarguably one of the two or three biggest stories in comics², and likely the one that reached the most people outside our rather insular community. Her absence is baffling.
That being said, having been on the inside of an awards process this year — and having taken some lumps for it — I can say with certainty that I have much more sympathy for Jackie Estrada and the Eisner committee than at any prior point in my life. It's an imperfect set of nominations, because no process for choosing and no people involved in that process can be perfect. I trust that everybody involved did the best they could with honest intentions. Nor could I be annoyed with any nominations list that includes the likes of Dave Kellett (for Best Humor Publication), Colleen AF Venable (Best Publication for Kids (ages 8–12)), or Vera Brosgol³ (Best Publication for Young Adults (Ages 12-17)). Congratulations and good luck to all the nominees.
In other news, Brad Guigar has taken an idea and run it in a new direction. Rich Stevens messed around with releasing a month or so of Diesel Sweeties strips as an e-book (mostly to play around with iBooks Author), which Guigar is also doing right now with Evil, Inc., but with a twist. Brad's download lets you see into the future. The entire month of April's storyline (and please recall that today is only the sixth day of April) is packaged up and can be yours for a buck and a half.

I've seen webcomics collections hit print with a few strips at the end still to run online, but I can't recall such an example of sneak peak access before. Approximately 24 hours after announcing the deal, Guigar found the response strong enough that he'll be repeating in May, and hints at further developments. For those wondering what he would do with all that extra time, Kicking his buffer in the ass appears to have been at the top of the list.

Jeph Jacques is heading to the entirely classy environs of Yale University on Thursday, 12 April, for a Master's Tea, which (as noted previously) is a Big Damn Deal. Not noted in print previously — but believe me I noted the crap hell out of it privately — Yale does a really terrible job of providing any public information about said Teas. We're six days out and the only schedule I can find only goes up to the 10th. There are many colleges at Yale, and this tea might not be held at Pierson, or maybe it will?

Basically if you want to go, I'd advise hanging around the Pioneer Valley on Thursday morning until you see a large man with tats and piercings and a Great Pyrenees headed south towards New Haven, and follow him.
_______________
¹ The guidelines do say that the judges could add, modify, or delete entire categories (and it's my understanding that happened this year), which to me is a much broader power than merely including additional works for consideration.
² NB: not just comic books.
³ I told you Anya's Ghost was the best comics of the year. Also, disclaimer: stuff that I wrote appears in Kellett's book.