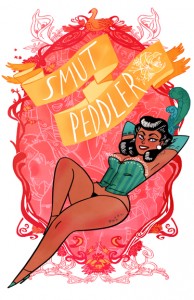 Rich Stevens is actually doing it:
Someone actually pledged $666 to dare me to break vegetarian and eat a pound of bacon. Daniel Valentine, you amazing dark wizard of death. I am going to survive this and evolve new mutant powers in the process! Perhaps this will be the radioactive spider that eventually teaches me about responsibility.
Speaking of Valentines, Daniel and otherwise …
_______________
¹ A lesser man would have a mistress, but Brad's not lesser in any sense of the word. Ladies.
² I don't have empirical, observed evidence for that like for the other two things but come on — dude's obviously got love for his family seeping from every pore. Every moment he's cartooning, he's champing³ at the bit to get back to his family.
³ You're welcome, Brad.