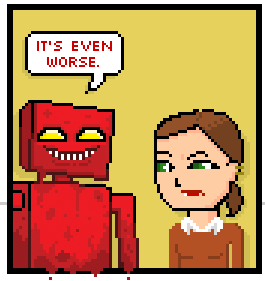 A little (simulated) murder, and little (definitely non-simulated) mind-gaming, a little (clandestine) blowing town for some far-off destination (I'm betting on Vegas and/or Tijuana); it must be the 3000th extravaganza. It started with Maura hatching a fairly evil plan involving Pale Suzie, Suzie's horrible cat (who has a history of violence), and a faked death. Naturally, mayhem become Red Robot, who just wants to join in the fun. Repercussions will inevitably follow, but for now let's just enjoy that evil grin in panel #5.
If we're being completely honest, the very sexy Richard Stevens III has actually done more than 3500 installments of Diesel Sweeties, once you count the year and a half he ran as a syndicated strip in newspapers, all while bouncing from crazed idea to even more crazed idea. It's a hell of an accomplishment, and one that would break lesser mortals, or at least anybody that didn't regard the phenomenon of sleep with a mixture of pity and contempt. Congratulations on the fairly arbitrary Big Round Number, Rich. Now get back to work baking tomorrow's cookie.
On the far end of the webcomics long runner count: Reptilis Rex, which launches today with an archive of a week's worth of strips¹. As previously noted, Reptilis Rex claims to be the work of one "William Tallman", which is an admitted pseudonym. Now obviously this is a fiction, and the strip is not produced by a lizard man from the center of the hollow earth, chupacabra, sasquatch or any other type of cryptid. We can reveal, as the result of an extensive investigation, that "William Tallman" is actually an established webcomicker, lying low from the potential wrath of angry corporate interests.

Consider: "William Tallman" anagrams to "Anal Am Will Milt", which stands for "Anal [collector, I] Am Will[is, fan of] Milt[on Bradley]"; as everybody knows, Milton Bradley is a subsidiary of Hasbro, who make the Transformers line of toys. Thus, "William Tallman" is clearly David Willis, well-known Transformers shill enthusiast, who is fearful of offending those who make his addiction possible and thus hides his new, non-Transformers-related project² behind a fake name. OPEN YOUR EYES AND SWIM IN THE TRUTH.

In the middle of the webcomics duration scale: Gastrophobia, which has a totally-handy catch-up strip for those of you that haven't kept current on the previous two "seasons" of the comic. If you want more to help you catch up on the story twists, Season One (cleverly paralleling the twelve labors of Herakles) is available from creator David McGuire's store, and Season Two will join it shortly, providing the fundraising is successful over the next month or so. If you like ponies, you should really scroll down to the bottom of the list of supporter gifts because there's one there that's totally just for you.
_______________
¹ A M-W-F strip, this puts RR's archive at a total of three.
² His third simultaneous strip, the second with no relation to Transformers, which constitutes an unconscionable reduction in Transformers content in the eyes of his Cybertronian masters. Life thus imitates webcomics, as in the completely true diary comics of Jeffrey Rowland, whose corporate boss must spend an inordinate amount of time ensuring that one little boy continues to believe in him and buy his toys. Truths within truths — David Willis is a thinly-disguised Wigu Tinkle.