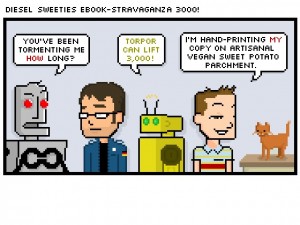 I was going to be posting about an amazing comic that Kate Beaton posted yesterday, but it's been temporarily pulled; it dealt with a death in the small town she's from, and because it's in the form of a "comic", there was concern that some might feel she was making light of the situation. It was as fine a meditation on loss that I've ever seen in words-and-pictures, and hopefully it will be back to where you can see it soon. When that time comes, you will most likely be able to find it here.
Instead, let's talk about Rich Stevens and his latest mad-comics project: a comprehensive, 3000-strip collection of Diesel Sweeties as an e-book, which he announced about 15 minutes ago, and which has already seen the addition of the most disturbing Kickstarter promotion I've ever heard of:
(And you better believe I will be adding weird rewards to amuse myself. Only $666 to make me break veg. and eat 1lb. bacon on camera.)
No, wait he's added one since then:
Blame @jefflowrey for the fact that I just added a KS reward where I give up coffee for a month for $10,000.
Damn you, former Fleen contributer Jeff Lowrey! Why do you want to make Rich commit suicide? But apart from the amusing rewards offered¹, I wanted to draw your attention to this because Rich Gets It, where "It" is the issue of Digital Right Management and locked formats and suchlike:
I care about credit and copyright, and love the idea of selling ebooks, but as long as I am able to work on Diesel Sweeties, I would like payment to be optional. That's the model which has supported me as my main job since 2003, through boom and recession. That's the model this comic was designed for and where it's going to stay.

Those of you who support this project will have free download as well as physical thumb drive options available. You'll also be ensuring I can afford to make a really thorough ebook and both sell it and offer it as a free download.

I hope you'll also store this collection and share it with your friends. Remix it for devices that don't exist, buy a decommissioned missile silo and Apocalypse-proof it, print it out and ask me to sign a twenty-pound stack of paper when you see me at a convention. Once you get a copy, it's yours. The only copy protection I need is the fact that tomorrow's comic doesn't exist yet and my brain's the only place that bakes that cookie. I only ask that you respect the Creative Commons license and do not use them commercially without permission. [boldface original, large text my emphasis]
That entire last paragraph is pure genius, and that large bit? That's what I want to beat into the brain of every IP lawyer that buys and bribes Disney an extension to copyright every time it looks like Mickey Mouse might enter the public domain. It's what I want to tattoo on the inside of Christopher Dodd's eyelids, so he realizes that creativity doesn't have to fear piracy if it's nimble and active instead of trying to hide from the changes in the world.
I may not have the spare cash to get ten copies of Rich's e-book on thumb drives delivered in person and he makes me coffee², but you can damn well bet that I'm supporting this³. It's not just an insane pixel-wrangling exercise (that's Rich's idea of a fun evening, anyway), it's a manifesto for the future in 8-bit blocks of color. Get on board, or get out of his way.
By the way, as of this writing, the campaign has been live for one hour and twelve minutes, and Rich has exceeded his $US3000 goal by US$203 already. Keep it going, nerds!
_______________
¹ Particularly check out the US$128, US$256, US$512, US$1024, and US$1701 levels. Update: the US$1701 reward is already claimed. I suspect Ryan North, Dylan Meconis, Jess Fink, or Ferocious J may have been involved.
² US$2600; I don't drink coffee anyway. But me and Rich are still friends.
³ Possibly at the US$69 level; does "Principal Tyrrell" count as a fictional character?