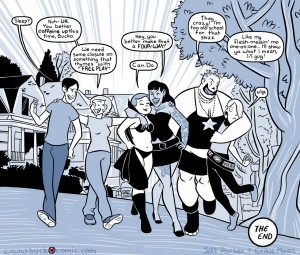 Answer: a whole damn lot. In the less than 24 hours since I last posted, Rich Burlew has added more than 500 supporters and US$63,000 to his already-impressive numbers so my prediction of tapering off to 325 large as a final tally? Busted. Let's just shoot the moon and call it a cool half-mil. And yes, I know I said the widget was so I wouldn't have to keep coming back to it. But it's just so compelling.
Speaking of dollars and the passage of time, let's talk Jin Wicked for a moment. Ms Wicked was the creator of the much-missed Crap I Drew On My Lunch Break (entertaining for a half-decade but gone lo these near-four years) and continued her daily autobio comickin' with A Dollar Late and A Day Short (for about two years, ending in September 2010 with a meditation on dying). She's back, with A$L&ADS turning in what is hopefully the first of many new updates.
I'm particularly glad to see A$L&ADS come back, as it may nicely fill the gap that will be left as Bucko hits its 102nd and final update, precisely filling one year with the self-described dick and fart joke murder mystery. At least, it started as a murder mystery, and it really turned into something much deeper. The journey that Bucko and his friends took was really about crossing the boundaries of enclaves (in this case, Portland hipsters) and learning about other tribal groups (bike fixers, steampunkers, Suicide Girls, juggalos, cops, and book fetishizers), each of whom was given that which we generally deny the Other: a chance to be seen as their own people, each with virtues and reasons to like them. Guys, this comic made me consider the possibility that juggalos are actually people and for that I will both thank and curse Erika Moen & Jeff Parker in equal measure.

I have just one quibble with Bucko, and it's not forcing me to reconsider my prejudices regarding murder-clowns. It's that the "murder mystery" part of the story kind of fell by the wayside. I mean, that dude is still dead in the bathroom (although presumably they moved the body), and it never got resolved. The Scooby Gang would have figured out it was the crooked land developer who stabbed the guy before making plans for group sex, not that that is a disturbing mental image in any way. Anyway, guy's dead and the cops are too busy gettin' it on in the cruiser, which means the ultimate lesson of Bucko is, Whatever life throws at you, make sure you sex it up, which you have to admit is a pretty good moral. Carry on, Parker & Moen, I rescind my complaint.

Let's finish up with a quick schedule of appearances for Scott C, who will be doing drawing and craft demos around the New Jersey/New York area for the next couple of weeks, starting this Thursday, 2 February, at the Barnes & Noble on Rt 1 southbound in Princeton. Unfortunately, there's no way I'll be able to get from work to that store in time for the 6:00pm start, so everybody say hi to Scott for me, hey?
_______________
Hmmm, no footnotes. Weird.