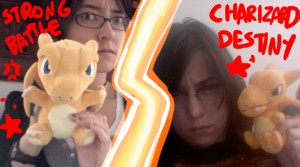 In which some various things are elevated.
What could possibly validate your nerdy idea as being Entirely Worthy more than to have fan-fiction written about it? David Malki !, Ryan North, and Matthew Bennardo have an idea:


OMG Kirk/Spock #MachineofDeath fanfic. It's … it's beautiful. http://www.fanfiction.net/s/7752812/1/Machine_of_Death

bucket list several entries shorter, not even joking

If that story gets SOPAed out of existence someday, I will chisel it myself in the marble of the Capitol steps.

To be completely clear, the fanfic in question is legitimately Kirk slash Spock in the traditional sense, but is rather restrained on that point. Take a few minutes and revel in what is (as near as I can determine) the second MoD crossover story — the first would appear to be a MoD/House crossover from November 2010, which you may read here (it's very short).

All of which merely begs the question: what is the most bizarre, inappropriate MoD crossover possible? I'm betting there's a brony out there ready to rise to the challenge.

Guys, I have a confession to make: although I appreciate things like the Capture Creatures project, I have no real knowledge of Pokémon. Oh, sure, I'm familiar enough with the concept — one can't have lived in Western culture for the past twenty years and not be — but I'm of an age where the initial videogame, card game, and animation weren't pitched at my age cohort, resulting in me never having really gotten on the Pokétrain at the beginning. I have never caught one of them, much less "them all", don't know what evolves into what, and have no opinion on how Snorlax is or is not awesome¹.

I am, however, familiar with the basic idea of Pokémon — having been away in Western culture for the past two decades pretty much guarantees that — and understand that any attempt to present artistic interpretations means coming up with potentially hundreds of images. To move beyond this is my favorite to a comprehensive treatment of merely the first tranche of 151 Pokémon² is a serious undertaking. Trying to put together a group show of 151 artists each portraying one critter is certifiably insane.

So naturally, that's what's happening in April. The Light Grey Art Gallery in Minneapolis isn't even open yet, but for the second show they are wrangling 151 artists to each produce an 8×8 inch representation of a Pokémon (presumably, their favorite, or close to it) and calling the whole thing Pokémon Battle Royale. The list of participating creators features plenty of well–known veterans of web– and indy comics³, 150 of whom were somehow convinced not to pick Charizard4. Watch the PBR page for news, and check back in April for your chance to to purchase one of the originals.

As of this writing, just over 60 minutes remain to get in on the Monster Alphabet Kickstarter. Also as of this writing, the fundraising total is less than US$200 from US$25,000; the original $US500 goal has managed a mindboggling 4967% success. I cannot speak for Darren Gendron, but I'd imagine that if you were the person that put him over 5000%/US$25K, he might slip a little extra something in your fulfillment package.
_______________
¹ Although I imagine that some of you have opinions on the matter.
² Is the plural the same as the singular? Is it Pokémons? Pokémen? Surely it's not Pokémans.
³ Note: it's Chris Eliopolous, not Chris Eliopolous. They get that a lot.
4 Even I know that Charizard is super-popular.