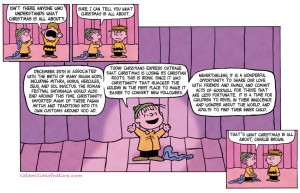 I think it says something (not sure what exactly, but something for sure) that I did a Google search on cavortment to make sure I got the Zappa quote right, and the first hit was a four and a half year old post from this very blog. Another man might take this as a sign that he needed to not throw so many semi-oblique references to Thing-Fish into his writing, but I am not that man. Onwards to the void.
Uplift: One may have noticed a comic that Tony Piro did about a year ago that homages a familiar scene to make a point about religion and such. This particular cartoon has been appropriated numerous times by people that don't understand the difference between Draw something that references Sparky while making my own point and Just erase Piro's name and pretend I did it. Piro himself has come to accept that there's no point in trying to police jerks:


It's probably one of the best received things I've ever drawn. But its success has also resulted in many people altering it for their own purposes, erasing my URL and replacing it with their own, and ruining what I think was originally a positive statement.

I could attempt to police these copies, but ultimately this is impossible to do on the internet, especially once images start spreading on social sites like Facebook.

But there is an upside:

Even if I cannot eliminate these other copies, together we can drown them out by spreading a superior message.

Please help me by sharing this comic anyway you can. Post it to your blog, on Twitter, on Facebook page, or even email it to friends and family. In keeping with the spirit of the season, for every 500 page views the comic gets between now and the end of the year, I will donate $1 to Doctors Without Borders. Thank you for your continued support!

Spreading an original to drown out inferior shadows, and supporting a worthy charity at the same time? It's a deal.

Frolic: Today is the second (pre-zumnably¹ annual) Feel Free To Talk To Me If I'm Wearing A Dinosaur Comics Shirt Day, so get out there and make some friends, dammit. One place you might be sure to make those friends is at the Dinosaur Comics Combo-Platter Book Launch/Holiday Party at Pauper's Pub in Toronto. Word has it that Ryan North² has a brother who is a professional brewer and he will be bringing special beers so you really want to be there.
Cavortment: We at Fleen have run many a story tying to San Fransisco's Cartoon Art Museum and Pittsburgh's ToonSeum, but never have we had cause to bring both into a single story until now. In approximately six hours, Pittsburgh and San Fransisco will meet in some kind of Monday Night Sportball contest³, and the respective honchos of CAM and TS (Andrew Farago and Joe Wos); have tied their sacred honor to whichever team manages to do the most points:


As the Pittsburgh Steelers and San Francisco 49ers face off on the football field, the cities' cartoon museums are getting in on the gridiron action too. The San Francisco Cartoon Art Museum's Curator Andrew Farago and Pittsburgh's ToonSeum Director Joe Wos have issued a friendly wager based on the outcome of the December 19th Monday night game. The losing team's fan will visit the other city's museum and conduct a cartooning workshop while wearing the opposing team's jersey. Will Joe Wos don Joe Montana's colors? Will Farago suit up like Franco?

Andrew Farago, author of the The Looney Tunes Treasury and curator of the San Francisco-based Cartoon Art Museum has outlined specific directions that he will only wear a classic 1970s Steelers jersey in the event of a 49ers loss. Joe Wos, director of the ToonSeum, has not outlined any specific jersey requirements as up until the bet he hadn't realized San Francisco even had a football team.

Okay! Smack talk between cartoon nerds! I think we can all agree, whoever wins in this contest4, I think we can all agree that the loser is just begging for a wedgie.
Editor's note: I was going to have something here about Howard "Evil Twin" Tayler's amazing Kickstarter campaign for the Schlock Mercenary boardgame — #2 slot for boardgames in Kickstarter history, over US$82,000 raised on a goal of US$25,000, having to come up with new over-goal rewards, etc., but unfortunately I just couldn't make it fit in the three-part theme for today's post. So I didn't bring it up. Sorry, Howard.
_______________
¹ Prologue, Zappa, Willis5, et. al.
² He's dreamy.
4 Which may involve a place called The frozen tundra of Lambeau Field, which sounds like there should be some Nazgûl guarding it.