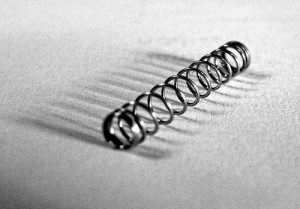 For several reasons, actually. At the moment, the most significant reason is that I'm presently dealing with the first cold of winter and I'm far less likely to have these vicious headache/sore throat combos in April than December. Rest assured, however, that there are other reasons.
Such as, sometime in the Spring is when we can most likely expect to see Stripped. Although half of Freddave Kellett-Schoeder was beat down by days of continuous travel and interviewing, the other half joined me for dinner last night, leading to an extensive conversation about the film, its direction, and the logistics of getting a rental car full of moviemaking equipment from Central New Jersey to the least accessible corner of Brooklyn to midtown Manhattan, and on toward Connecticut during prime commute hours. Vaya con Dios, plucky documentary makers.

On this swing (the last of the filming schedule, although they may squeeze in a couple final interviews back home in LA), Freddave Kellett-Schroeder have managed to rack up another half-dozen interviews, talking with vets of the webcomics scene, the print scene, and super-vets of the glory days of newspaper comics; there were also tidbits and details regarding the film that can't be revealed just yet, but once they are, will cause at least one of your heads to explode.

If you don't want it to be your head that explodes, start acclimating yourself to small doses of incredibly cool, unexpected news now (huh, the A Girl And Her Fed books are shipping¹) to progressively larger doses (huh, the NY International Children's Film Festival is showing all 15 Ghibli films); by the time Stripped comes out, you'll be ready to deal with the news I have in mind.

But because you've been so good and patient, I am prepared to exclusively share one piece of exclusive information that I confirmed exclusively with Dave Kellett last night: his daughter is freakin' adorable. What do you mean, Everybody that's ever met her knows that? It's an exclusive!

In all seriousness, Stripped is impressing ever more, as I learn all that Schroeder and Kellett accomplished so far, and learn about the plans they have for it. There will be days worth of visuals and interviews that serious students of cartooning will want to pour through for decades to come. I can't help but think that it's going to form a definitive record of the state of cartooning at this point in time and in 20 or 30 years, some future historians or documentarians will be asking to use clips in future projects².

Also coming around in the Spring, the comic convention circuit will be kicking into full swing. I got an email pointing out that space for C2E2 '12 is now available, but what most caught my eye about an otherwise-routine announcement was a section on changed union work rules, which should make exhibiting far more practicable. From the email:


Recent rulings and legislation have improved work rules throughout McCormick Place. Exhibitors can bring in outside food, use power tools to build their own booths with full time staff and benefit from decreased crew sizes. Click the button below for additional information directly from McCormick Place.

The referenced button leads you to this PDF from the exhibition space, which details reduced work crew sizes, reduced double-time rates, and the ability to use personal vehicles at loading docks. Hopefully Reed Exhibitions and other showrunners will be able to promote similar changes at other convention sites; with comics increasingly the province of independent creators, having realistic overhead costs will be critical to keeping comics shows from becoming the exclusive province of movie and videogame companies.
_______________
¹ I love AGAHF and creator "Otter" Spangler, but would it kill her to have permalinks to individual newsposts on her site? No permalink to the books-are-in story, so here's a picture for proof.
² I have a suspicion that Kellett and Schroeder might be a bit more willing to share clips of their work for future projects than they have found present licensors to be.