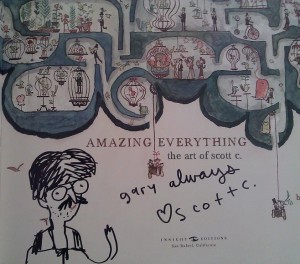 NYCC was a low-key, short-duration affair for me this year; other commitments kept me from being there the full weekend, but hey — anytime I can spend shooting the breeze with Brad Guigar about ladies and their disturbing cosplay¹, that's a good time².
_______________
¹ Specifically, one young lady that didn't seem to be dressed as anything particular at all (or at least, we didn't pick up the reference), but whose eyes were completely black. Pupil, iris, sclera, the whole thing, inky black. "Nice contacts," I told her. "What contacts?" she replied. "I'll rephrase," I countered, "If those aren't contact lenses, I'm calling an ambulance for you, because whatever could be causing that couldn't possibly be good." She laughed and didn't die, so I guess that's okay.
² Yes, yes, I know. We're wild, self-destructive party animals. Tell the cops to bring the riot squad, there's no controlling me 'n' Brad. Mostly Brad.
³ I suggested spaghettification in a black hole, but I'll settle for explosive decompression.