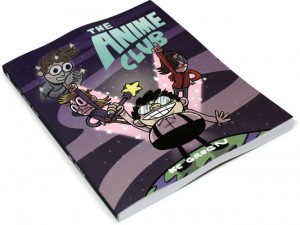 Three major challenges today, that is, which pretty much erupted in the first half-hour after waking up. Since then it's just been a normal Monday, for certain values of normal¹.
And that's all before considering that it's Talk Like A Pirate Day. I don't hold much truck with this holiday; to me, 19 September will always instead be It's Anniversary!² But dadnugget³ Crumbs has gone and made TLAPD actually valuable. Yarrgh.
Ultimately, though, there are two words that will redeem any bad times, even a Monday-Squared:

Club.

In other news, Jim Zub took time out from kicking ass and skulls with the funnest comic book on the racks presently to drop me a mysterious little email:


Hey Gary,
Check this out:
http://www.makeshiftmiracle.com/

Keep your eyes on it… it's gonna be a beaut.

Those of us that remember Zub's first comics work, The Makeshift Miracle (which launched, oh, about ten years ago) are rightfully intrigued by this turn of events and one-week countdown. Might there be a relaunch? Remastered art? Further adventures? The mind reels, and quite frankly anything that he throws at us, I'm gonna be thrilled. Hooray!

New Recipe Comix, this time from John Allison as Mildred and Lottie explore Toads and Holes and demystify one of those terribly British dishes that I never knew what it was and was scared to look at too closely. But Lottie and Mildred wouldn't steer me wrong, no matter how angry-eyed those smash potatoes are.
Last thoughts for today — as teasered in the Before Times (i.e.: ten days ago), Shaenon Garrity (Radness Queen of some appropriate Geologic Feature and Nexus of all Webcomics Realities that don't involve the Toronto Man-Mountain) has dropped some wisdom regarding Kickstartering for you today over at The Comics Journal. All who plan to use the microfinance service would do well to read it carefully.
_______________
¹ For example, Phillip informs me that the WordPress weirdness I encountered last week may recur for a period of time this week, as different projects get migrated/consolidated on his various back-end servers. Also, the latest WordPress update has shifted my editing window to a really small, console-like typeface, which I kind of like. But it's different, and on a Monday, so it gets brought up.
Also, what is up with Flaco's cleavage in today's Sheldon? That's just … disturbing.
² Happy second anniversary, David and Maggie.
³ It's not Estradarama, either, because Ryan Estrada is too busy trekking across South America.