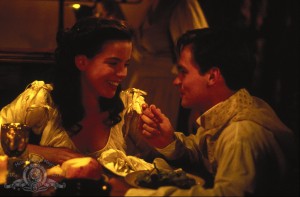 I'm pretty sure that if Erika Moen could have done a For Better or For Worse blinky effect without it being completely creepy, Gyp would be totally winking at us in that last panel as the fourth wall is irretrievably shattered and we are cued for input. Speaking of which, I think I saw Bucko outside SUPER BAIL in Vegas. Dude does not want to go back to jail.
Had I mentioned that Dean Trippe's Butterfly is back? I don't think I did. So, um, Dean Trippe's Butterfly is back, and a much-missed all-ages webcomic is once again in my regular rotation¹. Also let it be noted that he has mastered the Beaton Posture.
Not quite three months ago, the good folks at :01 Books were kind enough to send me a review copy of Feynman by Ottaviani and Myrick. The book released to the wider world about three weeks ago, and next Sunday's New York Times bestseller list for hardcover graphic novels shows Feynman in the top slot².

In my review of Feynman I talked at length about the man, what he meant to me, and how good the content between the covers was, but I neglected — shamefully! — to note that Collen AF Venable did her usual stellar job of book and cover design. I believe that the pull quote on the cover³ was particularly her choice, and he deserves praise just for that element alone. The cover is bold, eye-catching, and tells you everything you need to know because let's face it — we totally judge books by their covers.

I'm entirely convinced that while people like me who seek out :01's offerings would always recognize their uniformly excellent quality, the cover design is a huge part of what convinces the reading public to buy the damn things. Feynman might have been the first #1 bestseller Venable contributed to, but it won't be her last. Speaking of which I believe the fourth book in her Guinea PI series is available and you should buy it because it's super cute4.
_______________
¹ On occasion, I find myself wistfully wondering if Lunchbox Funnies will ever make a full comeback — most of the creators are on to other projects, but dang it was a nice hub for getting your all-ages fix.
² A somewhat narrow category to be sure, but as of this writing, it's presently #839 overall at Amazon, #6 among all comics and graphic novels, and #1 in Physics. Also, #1 in biographies specifically of Feynman, which is a ridiculously narrow category.
³ If that's the world's smartest man, God help us, credited to Feynman's mom.
4 I believe the technical term is "totes adorbs".