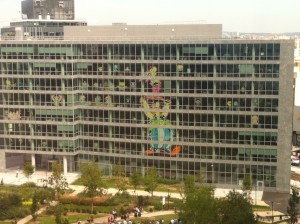 … and he's pointing and casually declaring, Comics. Why is it I can't see this sort of thing happening in America? We suck¹.
About three months back, Jorge Cham released an initial set of screening dates for his cinematical entertainment, and I noted a screening tentatively set for my backyard. Yesterday, a far more precise screening schedule dropped, and it's … I think that extensive is not sufficiently broad to describe what it is. More than one hundred showings are listed, with as many as a half dozen on the same day in far corners of the world. I note that Cham himself will be doing live Qs and As at some twenty of the showings, often accompanied by members of cast or crew.

I'm particularly interested in this one in particular, as it's very close to my home and thus I'll be able to buy Jorge a drink by means of congratulations. Hope to see some of you out there, and a special message to all grad students past and present: it's okay to laugh until you cry, since the alternative most likely available to you is to merely cry until you climb a tower with a rifle. Nameless bystanders, drop a word of thanks to Cham for giving all those potential spree killers a safe outlet for their grad-study insanities.

Speaking of movies, Dave Kellett announced a bonus set of video clips from Stripped yesterday, featuring Kate Beaton, Ryan North², Richard Thompson³, and Greg Evans. Backers also have access to an extra clip of the man who might have done more to define comic stripping in the past few decades than anybody else: Jim Davis.
Speaking of strips, Striptease wrapped up today, Chris Daily having been cranking out comics for damn near 11 years and more than 1000 updates. Fun fact #1: Daily was the first webcomicker I ever met, way the hell back at the first MoCCA Fest, probably around the time of the Inker Search storyline. Fun fact #2: just about every other webcomic referenced in those strips is no longer around, but Daily continues; look for book collections in the near future, and for the resumption of Punch an' Pie from hiatus, and whatever pops into his head because there's no stoppin' the guy.
Received last evening at my twitterfeed, via Patrick Race of Alaska Robotics, a short missive of great import:


@fleenguy It might take a second but I think when you realize what this means you'll be pretty excited. http://verabee.com/letter/testing.gif

You guys. You guys. Almost the very first thing I ever wrote on this site was an appreciation of Vera Brosgol's Return to Sender, a webcomic so good it retains a spot in my bookmarks even though it's seen no updates since 2004 and only one brief bloggening in 2007 (plus one crossover via a Scary Go Round guest strip nearly lost in the aether). But damn me if that link doesn't look like Often and Colette, with perhaps a bit more of the crazy eyes that Brosgol used to such good effect in Anya's Ghost. YOU GUYS, I AM MAYBE ABOUT TO BE THE HAPPIEST COMICS READER IN HISTORY.
_______________
¹ If you're going to get het up about that declaration of suckitude, it's not a general comment on the country as a whole or its relative value or righteousness, just on our tragic underuse of Post-It Notes to create Pedobear on the office wall.
² Nexus of All Webcomics Realities, Northern Division.
³ Not the musician with the extra-nimble fingers.