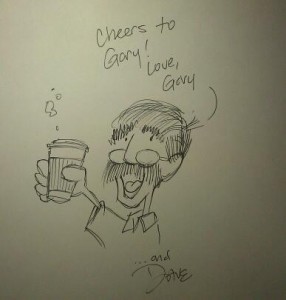 Arrived in the mail today (I will spare you the story of how it was addressed¹), one copy of Dave Kellett's newest collection, on the topic of that black water that some people like to drink. I can't in good conscience offer a review of this book since I contributed to it; much like the Unshelved collection, Frequently Asked Questions, Coffee! It's What's For Dinner reprints my referee's commentary from the Coffee Cup Lid Challenge of Holy Crap Four Years Ago?? Aught Seven.
Of course, my commentary doesn't appear anywhere online, so if you want to see me use the phrase Proustian Madeleine² in print, you'll have to buy one or the other (or both!) of the aforementioned books. And when you order those books, please be sure to point out to Messers Ambaum, Barnes, and Kellett that I don't drink coffee, which means that I got a copy of each book in exchange for blathering about something I don't know anything about³. Suckers!
Noted in the LiveJournal of Ursula Vernon, a story of her art getting ripped off by the nephew of Joseph Lieberman.

Really.

Apparently, the now-stealthed site art4love.com [no link would be provided even if it hadn't been taken down] scraped a bunch of images, ran 'em through a giclee printer, and sold them for upwards of $1000. I have attempted to get a comment from Mr Chad Love-Lieberman (yes, really), owner of the suddenly off-line site and supposed perpetrator behind this wholesale theft of art from multiple creators, via the toll-free number that ran on his site; the outgoing message identifies the line as belonging to love4art.com, and no response has been received to messages left.

And because I on occasion resemble an actual journalist, I also called Senator Lieberman's office4, asking if they had any comment on the situation; the press officer was out, a message was left, and any response from the Senator's office will be run when received. Oh, and a note for any of you wishing to also contact the Senator's office for comment: Senator Lieberman's website locked my browser up good, and that was with Javascript turned off; I'd advise you call the Senate switchboard directly at +1 202 224 3121 and ask to be connected.

Also, without any sarcasm at all, the personnel at the Senator's office were polite, helpful, and professional; anybody that might interact with them, please do them the courtesy of behaving in a like manner. You should also do the same if calling Chad Love Lieberman's toll-free number, which is +1 877 226 LUV4 (yes, really), because whoever answers the phone doesn't deserve your scorn5.

How about something more uplifting? :01 Books continues its march into curated webcomics hosting, with Faith Erin Hicks launching Friends With Boys with more than 30 pages back-dated to the start of July. It's going to be a new update every weekday as Hicks tells the story of a girl entering high school after having been homeschooled her entire life; the collected story will be published by :01 next year. If FWB is anything like The War At Ellsmere, it's gonna be terrific.
_______________
¹ Except to say that it was not sent to the proper place, namely: Penthouse Suite, The Fleenplex.
² Somewhere, Eric Burns-White's ears just pricked up and he doesn't know why.
³ The astute among you will note that I usually offer up such ill-informed blathering for free.
4 This brings the list of interesting places I have contacted on behalf of this blog to one (1) sheriff's department, one (1) elected official, and one (1) legal counsel for Todd Goldman.
5 Presuming that Love-Lieberman doesn't answer his own phones, which seems a pretty safe bet.